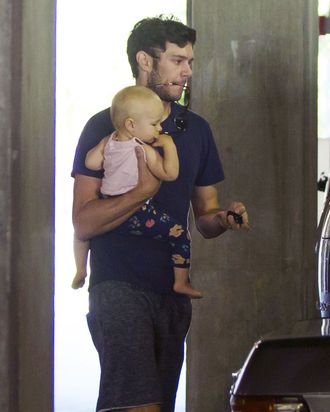 Seth Cohen (Adam Brody) and baby daughter.
Photo: WCP/4CRNS/FAMEFLYNET PICTURES
Ring the alarm: After teasing the press with two different stories about his baby daughter, Seth Cohen (Adam Brody) appeared in public with said baby daughter this weekend, and — oh my God — photographers were there to capture the moment. As you can see, Seth was carrying his baby through a parking lot in Los Angeles after doing some kind of errand. Dad and daughter were both dressed casually, holding either sunglasses or their own fingers in their mouths. A perfect moment.