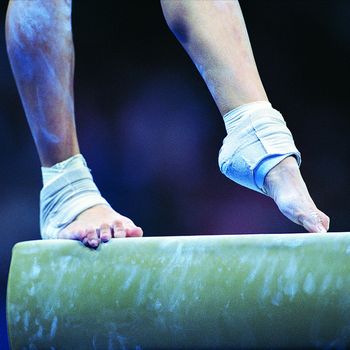 Photo: Digital Vision/Getty Images
Two former gymnasts have accused a longtime USA Gymnastics team doctor of sexually abusing them as minors.
One of the women, an Olympic medalist identified as "Jane Doe," has filed a lawsuit alleging that Larry G. Nassar started abusing her in the '90s, when she was 12 or 13, and continued until she was 18. According to the complaint, Nassar fondled her under the guise of providing medical care.
Another former gymnast, Rachael Denhollander, recently filed a criminal complaint against Nassar with police at Michigan State University, where Nassar treated her for back pain in 2000, when she was 15. According to Denhollander, during several treatments Nassar digitally penetrated her vagina and anus and massaged her breasts.
"I was terrified. I was ashamed. I was very embarrassed," Denhollander told the Indianapolis Star. "And I was very confused, trying to reconcile what was happening with the person he was supposed to be. He's this famous doctor."
Nassar served as USA Gymnastics' team physician for four Olympic Games. Though he had said previously that he planned to accompany the team in Rio, he resigned quietly last year. In a statement released yesterday, USA Gymnastics said it learned of "athlete concerns" about Nassar last summer, notifying law enforcement and relieving him of his duties.
Yet Jane Doe's lawsuit, filed in California last week, also accused USA Gymnastics of ignoring complaints about the doctor's conduct, claiming that Nassar "would do anal and vaginal examinations of Plaintiff and other gymnasts in the care of (USA Gymnastics) without gloves, a chaperone, and/or any form of lubricant."
The Olympian told the Indianapolis Star that she didn't report the abuse at the time because when she started seeing him at age 12 or 13, she didn't know it was wrong. "It felt like a privilege to be seen by him," she said. "I trusted him."
According to Nassar's lawyer, he "adamantly denies any misconduct at this time or any other time." In the wake of the complaints, Nassar has been suspended from Michigan State University, where he is a faculty member. The university confirmed that police are conducting a criminal investigation.
Last month, the Indianapolis Star published an investigation into USA Gymnastics' troubling pattern of dismissing allegations of sexual abuse by coaches. You can read the full report here.