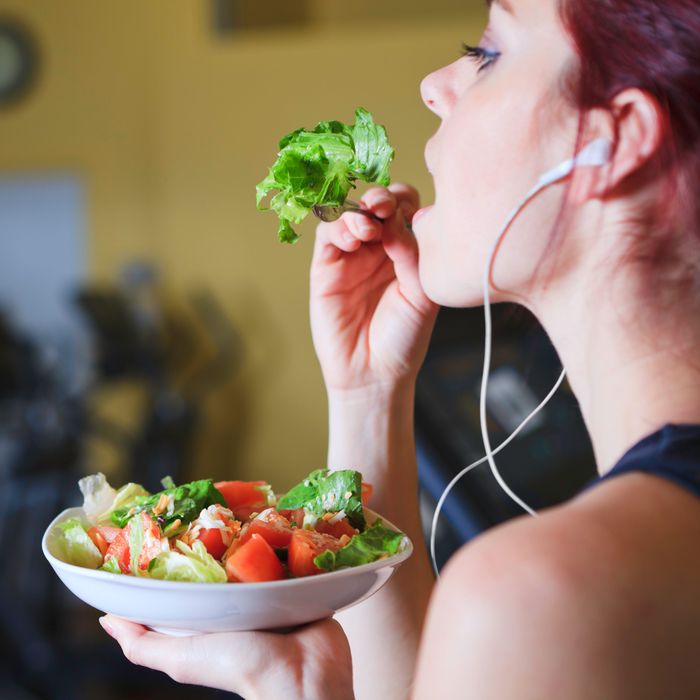 Who wouldn't want to eat at the gym?
Photo: Louis-Paul St-Onge/Getty Images
If there's one thing missing when I hit the gym, it's the presence of an on-site restaurant where I can eat back all the calories I just burned on the treadmill, preferably in cheeseburger form.
Luckily, gyms in Hong Kong have heard my prayers and are starting to open up restaurants on their premises, according to the South China Morning Post. Now, gymgoers can work up a sweat then refuel at the same facility.
Rugby player and restaurant owner Ricky Cheuk recently decided to open a coffee and wellness bar on the premises of his Warrior Academy gym. "They go hand in hand. You work out seriously, and then you need to be fed well," Cheuk told the South China Morning Post.
Similarly, the Pure Group, which owns seven gyms and eight yoga studios in Hong Kong, opened organic grab-and-go café Nood Food in 2013. And cold-pressed juicer Mr. Green Juice also opened a store at boutique gym Odison this year.
Clearly, this is a trend that is spreading throughout the Hong Kong fitness scene. Here's hoping it will also catch on in the U.S., so I will finally stop running to the nearest deli after my workouts.