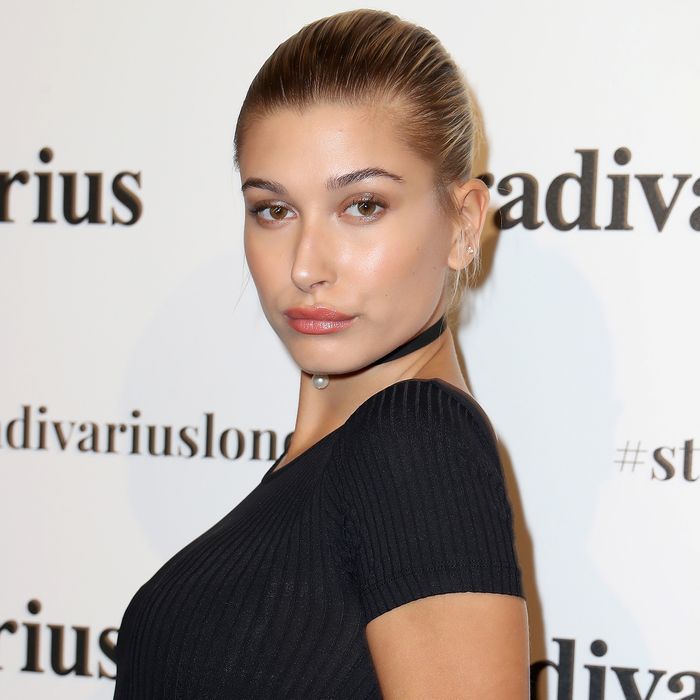 Hailey Baldwin.
Photo: Chris Jackson/Getty Images
First, a short primer: Last month, back when Selena Gomez and Justin Bieber were having their online back-and-forth in the comments section, Hailey Baldwin was somewhere else entirely, but also tangentially involved in the mix and "super upset" at the unfolding drama involving Sofia Richie. Baldwin became more involved, though, when she took to her Instagram account and shared a quote that seemed to aptly suit the occasion. It read, in part, "Misplacing the blame onto someone else isn't going to get you to the next stage in life, so try not to manipulate a situation to make yourself look better." Plenty of outlets later quoted the post as a sign that Baldwin was in Gomez's corner.
As it turns out, though, the lengthy paragraph Baldwin shared didn't consist of her words, but instead those of Melissa Molomo, a writer from Long Island. Which brings us to today: Molomo is now suing Baldwin for sharing her work (words?) without attributing properly, according to "Page Six."
Baldwin has since taken down the post, but in a cease and desist letter obtained by "Page Six," Baldwin is called out for "fraudulently passing it off as [her] own." The original post was shared on Molomo's social-media account and had her personal handle and hashtag in the image as attribution. That all seems to have been cropped out entirely from Baldwin's post later. "In copying and using Ms. Molomo's work without permission, you have taken credit and caused confusion as to whom the original author of this work is," Molomo's attorney, Z Zoltan Stein, wrote in the cease and desist letter.
Molomo's seeking a public apology from Baldwin, who could also be liable for damages in the six figures range, according to "Page Six." Wherever Baldwin is right now, she's probably wishing she'd used the Repost app for that shade-throwing quote. Or, you know, just stayed out of the drama altogether.