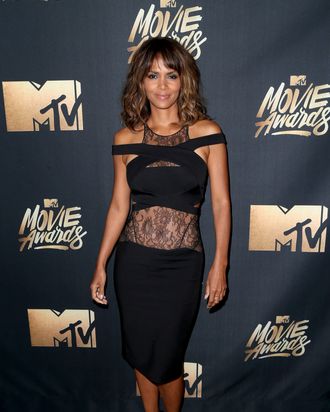 Halle Berry, not just a pretty face, she can act too, don't ya know?
Photo: Frederick Brown/MTV1415/Getty Images
Hollywood's a tough crowd to navigate when you're young and beautiful, bemoaned Halle Berry in a recent interview with W. To circumvent a lifetime of playing embarrassingly pretty people, she kick-started her career by strategically auditioning for roles that would put her acting chops on display, telling the magazine: "I took on roles early on that really didn't rely on my physical self at all and that was a good way to sort of get some credibility within my industry."
However, the struggle didn't end there. Years later, winning over Monsters Ball producer Lee Daniels was no easy task, Berry explained. "Lee Daniels didn't want to see me read. He was actually disgusted by the thought. He thought there's no way and my argument to him was, just because someone looks a certain way doesn't mean that they are spared adversity. Adversity does not discriminate."
I too understand the harrowing strain of living with crippling beauty, and for that, I am compassionate.