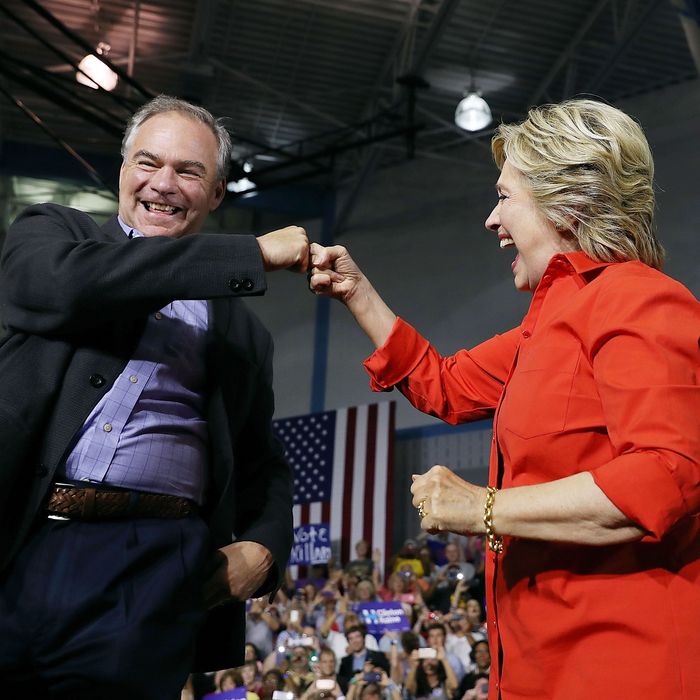 Hillary Clinton and Tim Kaine.
Photo: Justin Sullivan/Getty Images
Hillary Clinton and Tim Kaine — known in some circles as Mom and Dad — have been a pretty great pair from the outset. But if for some reason you still aren't convinced of their best-friendship, their interview with People magazine should lay your doubts to rest — or at least prove to you just how hard they're trying.
In it, Clinton says earnest things about policy like, "What matters to us is that people are better off because of what we do," while Kaine reaffirms his role as Clinton's No. 1 fan with sound bites such as, "I'm a strong man who's really excited to be supporting a strong woman in this way," and, "At the end of the day the president is the boss — the president is the commander-in-chief." He's not wrong!
Clinton also assures People that she's committed to building an Obama-Biden-esque rapport with Kaine:
"We are very much focused on learning about each other, so that we know enough to not only have an even better relationship, but to kid each other," Clinton says. "I've seen it up close and know how important it is. There's a lot of serious stuff to talk about, but kidding each other, getting some release from all of the constant stress, that's a big part of it, too."

"So I'm storing up what I'm learning about him," she adds. "I tend to interrogate his three children when I get a chance, in order to get as much information as possible."
That's right, folks — this is a woman with a strategy for everything.