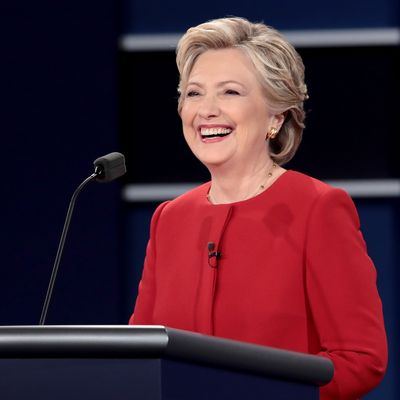 Hillary Clinton is on fire.
Photo: Drew Angerer/Getty Images
On Monday night, Hillary Clinton and Donald Trump took the stage at Hofstra University for the first of three presidential debates. There was shouting. There was negging. There were interruptions that Lester Holt did little to mitigate. But, most important, there were burns, and they were sick.
Clinton kicked things off early on with a nice burn following Trump's comments about trade deals.
And she followed up with a dig regarding Trump's refusal to release his tax returns.
Then Trump made fun of her for being prepared for the debate, which went over super well.
And when Trump went on a long rant defending his demand that President Obama release his birth certificate, Clinton came back with this gem:
Then there was that time Trump finally — finally — brought his point to a conclusion, and Clinton responded like this:
Yep, this.
Even when she wasn't saying a word, she was burning Trump.
On Tuesday morning, she summed up Trump's debate performance like this:
In conclusion: