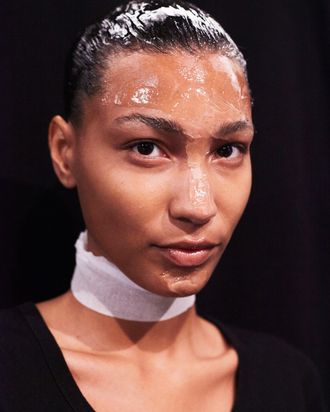 There's something about … this HBA beauty look.
Photo: Christine Hahn
Who says you never see anything new at Fashion Week? Hood by Air's newest collaboration is with PornHub, and let's just say that the beauty look was "inspired." Although hair and makeup artists described the beauty look rather obliquely as "mischievous children who got into households accidents, like getting into Vaseline," the true inspiration for the very, very viscous Vaseline running down the models' faces and splattered across their hair seemed evident. Use the dirty-gutter portion of your brain.
It's probably not out of a desire to have super-dewy skin nor to strobe. If it's still not clear what the inspiration was, audience members were treated to a soundtrack of gurgling, gagging, and spitting noises before the show began. "She's Miss Messy," is how nail artist Mar y Soul diplomatically described this season's Hood by Air girl. Gloppy vaseline even went on the models' nails: Each nail had one half of a chipped French manicure (using Duri nail polish), the other half a generous dab of ornamental Vaseline.
Roughly half of each model's There's Something About Mary–like hairdo was also liberally coated with Bumble and Bumble's Gel Oil (in this instance, it actually was hair gel), which had the unintended effect of also being a good deep conditioner, hairstylist Amy Farid found out. "The model told me it washed right out after the test, and let me tell you, his hair felt great afterwards," she said.

Should you want to re-create the particular texture of a very specific liquid often seen on porn sets, Inge Grognard replicated it by placing Egyptian Magic, M.A.C Cosmetics Mixing Medium Shine, and a theater product called Crystal Clear Ice Makeup.
"How do you get that look?" an editor innocently asked backstage, wanting details about exactly where to place the goop. "How do you sculpt cheekbones with Vaseline?" How do you do that? Smirk.