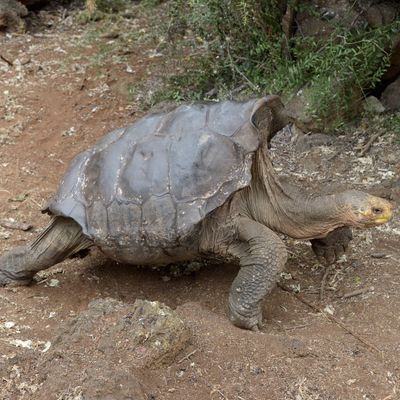 Diego the Horny Tortoise.
Photo: RODRIGO BUENDIA/AFP/Getty Images
You probably remember hearing a fable or two when you were growing up, like the Ant and the Grasshopper or the Tortoise and the Hare. And who can forget the Horny Tortoise Who Had So Much Sex He Single-handedly Saved His Entire Species?

Diego the Tortoise is a Galapagos giant tortoise who lives on the island of Española in the Galápagos Archipelago. He was initially tracked down at the San Diego Zoo — preservationists think he was initially removed from his home island between 1900 and 1959 — and then returned to Española in 1976.

Half a century ago, Diego's species was down to only 2 males and 12 females. But now, thanks to his insatiable sexual appetite, his species is saved: Diego, who's over 100 years old, is thought to be the father of around 800 tortoises, or 40 percent of the turtles released from his breeding center.

Nice.