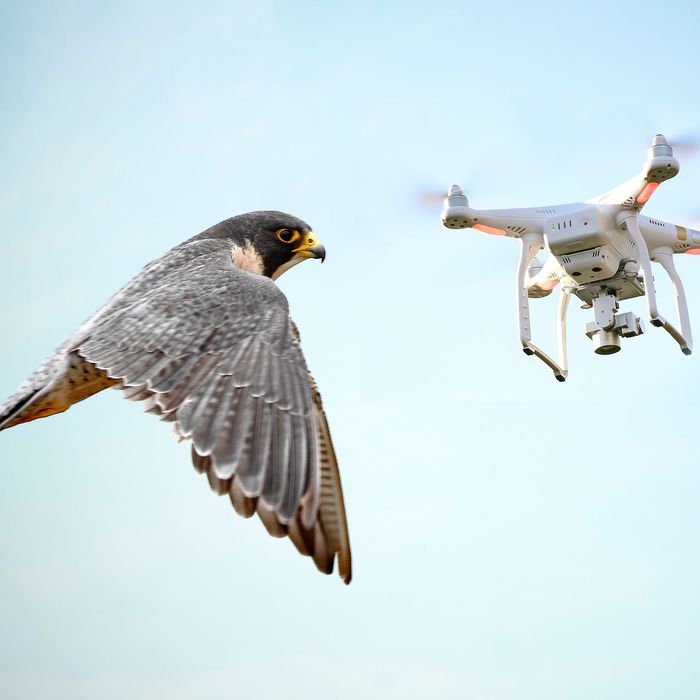 Watch out, drones.
Photo-Illustration: Westend61/Getty Images
Poor celebrities just want privacy when they're on vacation at luxury resorts, but of course, paparazzi drones always seem to get in the way.
Fancy hotels are not about to let their celeb clients feel violated by drones that take pictures of them naked paddleboarding, however, so they're pulling out all the stops to protect these high-profile guests. Yes, you guessed it: Hotels are now using falcons to take out paparazzi drones.
The Hôtel du Cap-Eden-Roc in France recruited 13 falcons and handlers to patrol the surrounding area for drones during the recent wedding of art collector Alberto "Tico" Mugrabi and fashion blogger Colby Jordan, according to "Page Six." The falcons not only protected the happy couple's privacy; they were also there for the sake of the wedding's celebrity guests, including Princess Beatrice, Mary-Kate and Ashley Olsen, and Karlie Kloss.
"The falcons are trained to take down drones in midair, without injury to themselves," a source told "Page Six."
Celebs can finally go back to posting their own vacation selfies in private.