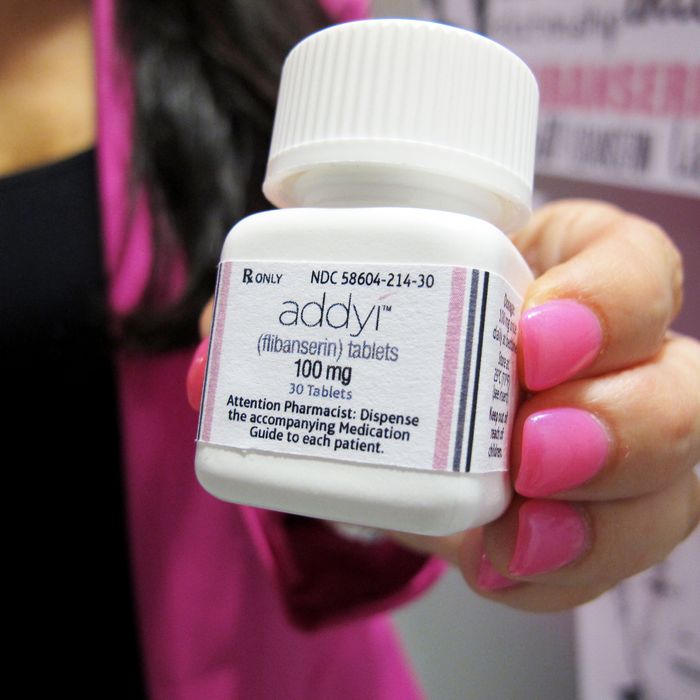 Oooh, it was going to be so good for women. It was going to bring back our flagging mojos en masse, save slumping relationships, and, if that weren't enough, rectify what some were calling "persistent gender bias" at the FDA.
The "It" drug was Addyi, Sprout Pharmaceutical's answer to low libido in women, approved by the FDA last August and now in the news for its low sales and for turning out to be a bit of a dud, effectiveness-wise. A meta-analysis in April's JAMA Internal Medicine looked at previously unpublished clinical trials, along with those reviewed by the FDA, and found that Addyi works more like a roofie than a love potion, more than earning its black-box warning for causing dizziness, drowsiness, nausea, and, when mixed with alcohol, unconsciousness. All this for just half an extra "sexually satisfying event" per month (an industry term that includes everything from actual sex to a randy thought).
None of these questions about Addyi's effectiveness were hidden during the FDA approval process — it had already been rejected twice. Nonetheless, bringing this drug to market seemed so important a year ago that several well-respected health and women's groups rallied around it as part of the Even the Score campaign, a supposedly grassroots effort to expose gender bias at the FDA as the root of the disparity in treatment options — men have Viagra and several other sex boosters to choose from, they argued, while women have none (there actually are FDA-approved treatments for vaginal pain and sexual-arousal problems). When Addyi was approved, organizers called it a win for sexual parity, but some suspected they had been manipulated to score one for Big Pharma, and that troubling changes at the FDA had played a role.
"It's time to start believing what women say about their sex lives," Jan Erickson, government-relations director for the National Organization for Women, said before an advisory panel at the FDA hearing for Addyi last year. The crowd cheered her on as if they were at a football game rather than a scientific meeting. The room in Bethesda was packed with Even the Score member organizations, industry-funded doctors, and pharma representatives, along with interested women and their partners, some of whom had been flown in by Sprout. At several points during the meeting, as experts and health advocates presented their concerns about the drug's side effects and lack of efficacy, the crowd hissed. But they applauded other speakers, like Lori Weinstein, who spoke "on behalf of the 75,000 members of Jewish Women International who share our belief that FSD [female sexual dysfunction] has been overlooked for far too long … We believe the science is there for the approval of the drug."
The American College of Nurse Midwives, the National Association of Nurse Practitioners in Women's Health, and Black Women's Health Imperative joined Even the Score too. The campaign worked the media so well that Time magazine listed Addyi as "the number one inanimate object that drove the news in 2015."
Last August, the FDA delivered its approval, overturning its own internal reviewers' recommendations. In an editorial accompanying the recent JAMA review, Steven Woloshin and Lisa Schwartz, physician-researchers at Dartmouth Medical School and the founders of pharmaceutical education company Informulary, wrote that FDA administrators "overrode" scientists' evaluations that the drug didn't warrant approval. "When we looked at the new data for Addyi, it was hard to understand why the drug was approved the third time around because there was a new alarming drug interaction study — so alarming that it was stopped early because so many people had low blood pressure or fainted," Schwartz said.
Then, within two days of Addyi's approval, Sprout turned a $1 billion profit by selling the company to pharmaceutical company Valeant (a purchase it may now be regretting as its stock continues to plummet).

It's not unusual for pharmaceutical lobbyists to show up at the FDA. But in this case, they'd been lobbying women's organizations too, convincing some mainstream groups to go to bat for Addyi on the grounds of women's equality — even if it wasn't obviously good for women's bodies.
Even the Score's leaders said the group "evolved from discussion among the women's groups," as the New York Times reported. But several organizations we called said the idea had been introduced to them by two close friends: Susan Scanlan, "a DC institution when it comes to women's groups," as one activist put it, and Audrey Sheppard, the former head of the Office of Women's Health at the FDA. Sheppard especially had feminist-health street cred. But in this case she was working for Sprout.
After her tenure at the FDA, Sheppard began working closely with pharmaceutical companies, and by 2008 had become a full-time consultant, organizing show-and-tells for device and drug manufacturers to introduce them to the women's health Establishment in D.C. — products like the female condom, a breast-tissue expander for reconstructive surgery, and Plan B. Cindy Pearson, who heads the National Women's Health Network, told us that "Sheppard often encouraged her clients to make individual contributions to us or our event."
In 2013, Sheppard was organizing luncheons, conference calls, and private meetings with feminist and medical leaders to introduce them to Sprout's libido drug, then known as flibanserin. At first, those meetings were about the drug's ostensibly promising new data. "Audrey's job was to get people like me interested in a product and to support it. With flibanserin, it wasn't just her job. I believe she thought this drug deserved to be approved," said Diana Zuckerman, director of the National Center for Health Research. "But as a scientist, I wasn't impressed with the data." Other feminist health movement leaders echoed the sentiment.
By early 2014, Zuckerman and others say Sheppard was back knocking on doors with Sprout CEO Cindy Whitehead, this time with a different sales pitch. Now there was talk of the need to fight gender bias at the FDA.
"They raised the argument that led to Even the Score," says Susan Wood, now director of the Jacobs Institute of Women's Health at George Washington University, who recalled a meeting with several feminist health leaders at which Sheppard and Whitehead raised the sexism issue. Wood, a former head of the FDA's Office of Women's Health, says she and others voiced their disagreement with Sheppard. "This wasn't about the FDA being sexist, it was about the data," says Wood.
Wood's group is accustomed to taking positions on health policy and products, but other non-health-specific groups that don't normally take positions on particular drugs joined the Even the Score campaign. Board members at the American College of Nurse Midwives, Jewish Women International, and Black Women's Health Imperative told us they were surprised to learn of their organization's involvement in the pro-Addyi campaign — some said they thought they were supporting a "sexual health equity" campaign, not a particular drug, and the midwives' college recently rescinded its support. "To me, it really looks like we and probably some of those other organizations were tricked into being part of something that we were never intending to endorse," one board member told us. Scanlan and Sheppard both declined to comment for this article.
The Even the Score campaign included well-placed parodies of Viagra ads, a website, a petition drive, and a joint letter from 11 members of Congress to the FDA urging the agency to approve the drug, with few mentions that the effort was funded by Sprout. But anybody who scrolled down the About Us page of its web site, past the logos of the nonprofit members, would have seen Sprout Pharmaceuticals and Trimel Pharmaceuticals (which also has a female-libido drug in the pipeline) listed as sponsors.
In June, a paper by a bioethicist and a social psychologist in the Journal of Medical Ethics (part of the British Medical Journal) argued that Even the Score was "cleverly disguised as a campaign to empower women" based on "deceitful and inaccurate information" that employed an "unethical use of moral arguments."
Watchdog groups like Wood's and Zuckerman's, along with the New View Campaign, the National Women's Health Network, Our Bodies Ourselves, and Pharmed Out wrote letters to the FDA and op-eds arguing that drug approvals should be based on science, not politics. Still, the coordinated effort to warn mainstream women's organizations about Addyi's safety risks and lack of efficacy was slow to get off the ground. One feminist health advocate recalled a meeting at a coffee shop one early morning the summer after Even the Score had been launched, at which several women's health leaders and Sheppard agreed their disagreement would be civil.
"A lot of us who know and respect Audrey through the years, even though we disagreed with her on flibanserin, we were reluctant to actively work against her," Zuckerman said. "By the time the campaign was created, we were too late," Wood added. "The groups had already signed on."
Wood, along with a coalition of advocates, has "pushed hard for there to be more transparency in the closed-door meetings that occur between industry and FDA," in negotiating the Prescription Drug User Fee Act, which is up for renewal next year. Thanks to the act, the FDA's Center for Drug Evaluation and Research, which oversees the drug approval process, now receives a majority of its funding from pharmaceutical companies, not taxpayers. hose fees have been "targeted at speeding up the review process," says Wood, which has led to fears of conflicts of interest. "The priority is clearly faster review and faster approval," she says, "so it certainly raises the concern that there might be undue influence."

One example may be the "patient-focused" meeting that the FDA held for low desire in women in October 2014. These meetings, at which disease sufferers give often-emotional testimony about the impact on their lives, are usually reserved for life-threatening, incurable diseases like sickle cell anemia. The panels were packed with patients wearing matching teal scarves, some of whom acknowledged Sprout and Even the Score for paying their way. In the end, Addyi was approved for treating hypoactive sexual desire disorder, a disease that is no longer recognized by the DSM-5.
These days, the FDA seems to be approving almost everything. From January to August 2015 (when Addyi was approved), the agency cleared 96 percent of new drugs, and boasted about how many and how efficient the process has become. In 2010, when Addyi first went before the FDA (as flibanserin) that rate was 57 percent. According to a study by Harvard Medical School, since pharmaceutical companies started funding the FDA's Center for Drug Evaluation and Research, drugs have a one in three chance of being slapped with a black-box warning or taken off the market for safety reasons. Sidney Wolfe, of government watchdog Public Citizen, advocates for a "seven-year rule" for drugs — consumers should wait that long before trusting an approved drug is safe, he says.
With only 4,000 prescriptions written since February, a monthly cost of $800, and many insurers refusing coverage, Addyi's lasting legacy isn't likely to be that of a game-changer for women. On the other hand, it may well be a test case for sped-up drug approval processes. In April, Zuckerman attended a hearing for Sarepta, a drug to treat a rare form of muscular dystrophy in children. It was tested in only 12 subjects, with no control group, and scientific reviewers gave a "scathing" review. (As part of the bargain for funding the FDA, certain drugs can now come up for approval without placebo-controlled clinical trials.) A thousand distraught parents attended the meeting and pushed for approval. "It's quite clear to me that the company learned from the Even the Score campaign how to manipulate the FDA through patient advocacy," says Zuckerman. "The companies have learned that even if they have lousy data, or lousy product, the way to get it approved is to get patients to advocate for it. And the patients don't need to be particularly persuasive from a scientific point of view."
As for billionaire Sprout founder Cindy Whitehead, who graced the cover of Entrepreneur magazine in January, her new venture is "The Pink Ceiling Foundation," a consulting firm designed to help get female-focused products to market.
This article was reported in partnership with the Investigative Fund at the Nation Institute.