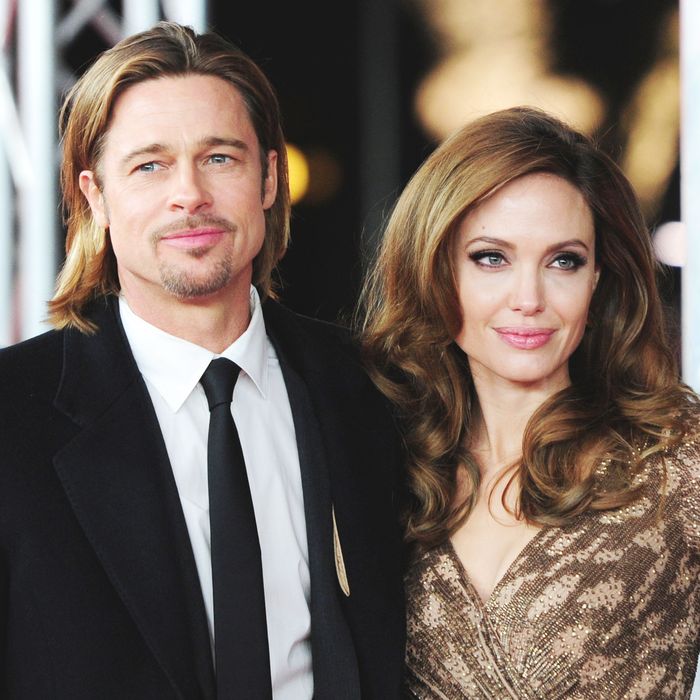 Brad Pitt and Angelina Jolie.
Photo: JOHANNES EISELE/AFP/Getty Images
Angelina Jolie filed for divorce from Brad Pitt on Monday, after two years of marriage and roughly 12 years together. She did not ask for spousal support, but she did request physical custody of the couple's six children, which would leave Brad with visitation rights only. This morning, TMZ aired Brad's thoughts on the filing: "Brad Pitt: Get Ready Angelina, I'm Fighting for Joint Custody." If you've been following the Brangelina news cycle for the past 24 hours, the idea of Brad telling Angelina to "get ready" is laughable. She has been ready.
In one day, Angelina has waged a calculated PR campaign so ruthless and exacting that Brad may never recover. She let TMZ break the news of the divorce on Tuesday, and in that very first post, the site laid out her reasons for requesting custody of the kids. TMZ reported:
Sources connected with the couple tell us … Angelina's decision to file has to do with the way Brad was parenting the children … she was extremely upset with his methods. Our sources say, Angelina became "fed up" with Brad's consumption of weed and possibly alcohol, and mixed with what she believes is "an anger problem" … felt it became dangerous for the children. Indeed, Angelina's entertainment attorney Robert Offer says she made the decision "for the health of the family."
Brad was buried from the start. By filing for divorce on a Monday, Angie left him with few avenues to make his case to the public: The major tabloids — People, Us Weekly, OK! — all go to press Monday night. The New York Post reports that none of the tabloids have Brangelina stories for this week; they won't be able to "exploit the explosive and popular news story until Sept. 28, when next week's issues start to hit newsstands." As Lainey Lui at Lainey Gossip explains, "This was all was part of [Angelina's] plan, as always, to control the media, to get her piece out there first, so that she can come strong in negotiations. If he gives her sole physical custody of the kids, she'll shut it down, and all this can just be 'gossip.'"
Brad has been forced to defend himself online, which means going back to the same website that called him a bad dad with a substance problem. TMZ published "Brad Pitt: Angelina's Anger Claims Are BS, He's Not a Dangerous Dad" later in the day on Tuesday. Brad also released a shaky, clipped statement to People:
"I am very saddened by this, but what matters most now is the well-being of our kids. I kindly ask the press to give them the space they deserve during this challenging time."
People's editors, likely annoyed that Angelina did not give them the divorce exclusive, have tried to help Brad, with stories like "Angelina Jolie and Brad Pitt Are 'Great' Parents and 'Care Very Much About Their Kids,' Says Source" and "How Brad Pitt Helped Angelina Jolie Through Her Cancer Crisis." But the tabloid is scrambling. The Post reports that People "plans to publish next week's issue early and hustle it onto newsstands this week. It was crashing the issue on Tuesday night." It will be days before Brad gets a real chance to tell his side of the story, and he will always be on the defensive.
The only kindness Angelina has offered Brad has been to shut down the rumors that he had an affair with his Allied co-star Marion Cotillard. TMZ, People, and Us Weekly have all published sources claiming that Marion had nothing to do with the split. After all, the affair story does not help Angelina; she was the "other woman" once.
The remaining question is why Angie is doing any of this. According to Lainey Lui's sources, Brad was "blindsided" by Angelina's decision to file for divorce. Lui reports that last week, before Brad left on a trip to Croatia, "some major drama went down (nothing to do with cheating)." While he was gone, Angelina made the decision to file "quickly," and she hired powerhouse celebrity divorce attorney Laura Wasser (who just handled Johnny Depp's divorce). Then Angelina executed her perfectly timed media strategy. So what exactly happened? Lui's source would only say that Angie "has her reasons."