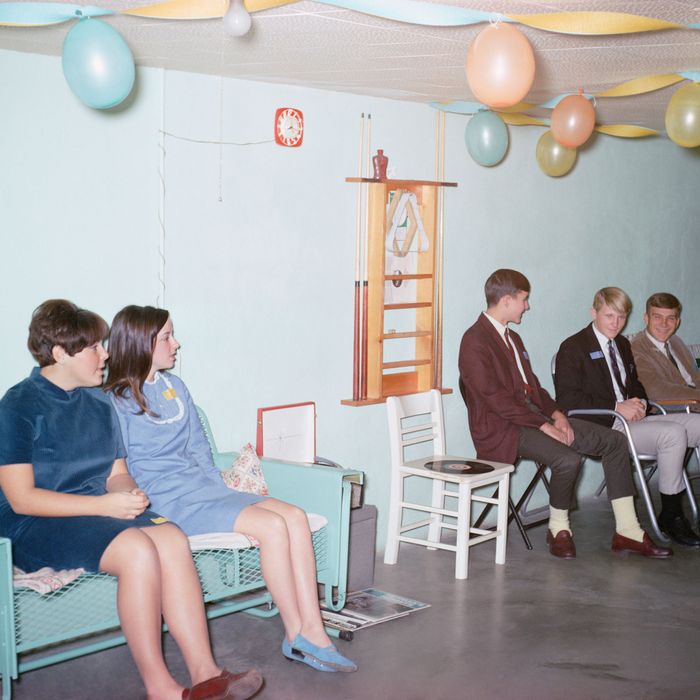 Photo: Images Of Our Lives/Getty Images
Awkwardness is like pornography — you know it when you see it — but it can be harder to pin down all the various components that turn a conversation from pleasant to uncomfortable. You'd probably notice if someone kept interrupting you, for example, or laughed at inappropriate times, but you may not necessarily pick up on some of the other, more subtle reasons for your discomfort: that someone is leaning just a little too far away, maybe, or that they're nodding just a little more than normal.
But the Conversational Skills Rating Scale, first developed in 1987 by Brian Spitzberg, a professor of communication at San Diego State University, catalogues all those moving parts, breaking down a conversation into all the factors that can make it go right or wrong. The 25-question scale was built to measure of what Spitzberg calls "conversational competence," a hybrid skill that encompasses "both appropriateness and effectiveness" in social situations, he explains: "You can be effective but inappropriate — you can have a boss scream at you and get you to do what they want — but that doesn't seem like a very competent approach to communication." On the other hand, "you can be appropriate but not effective — you can be at a really nice party and not do anything offensive, but not actually achieve anything" in terms of meaningful social contact. "And then of course you can be inappropriate and ineffective, which is the worst of all possible worlds."

Most often, Spitzberg explains, competence is a sweet spot surrounded by two extremes. "Too little eye contact is a problem, but too much eye contact is a problem. Too many interruptions or too few interruptions can be problems," he says. "So we tried to built a response scale that wasn't about 'Did you do this?' but more a question of, 'Did you do this appropriately?'"
Directions: There are two ways to apply the scale, Spitzberg says — you can use it as a self-evaluation tool, or you can use it to measure someone else. Maybe think back on the last conversation you had: Do you want to know the depths of your own awkwardness? Or would you rather turn a judgmental gaze toward the person you were talking to?
For each one, rate yourself (or whomever you're scoring) on a scale from one to five, based on how well they did: For example, if someone talks neither too fast nor too slow, give them a five — not a three, even though that's the middle. Spitzberg says competence is likely anything above 100 — a score between 75 to 100, he says, is "substantial room for improvement," while anything below is painfully, alarmingly awkward.
A word of caution: If that ends up being you — well, we've all had an off day. But the score you end up with is more an analysis of this one conversation, and maybe a handy guide for the future, and less an absolute truth: "Competence is fundamentally a social perception," Spitzberg says. "It's subjective." Awkwardness is in the eye of the beholder, and right now, the beholder is you.
Speaking speed (Talking too fast? Too slow?)
Inadequate
Adequate
Excellent
Speaking fluency (Were there too many pauses or filler words, like "um" or "uh"? Too few?)
Inadequate
Adequate
Excellent
Confidence (Sounding too tense on one hand, or too aggressively cocky on the other)
Inadequate
Adequate
Excellent
Articulation (Don't mumble, but don't overdo it, either)
Inadequate
Adequate
Excellent
Vocal variety (Monotonous? Overly dramatic?)
Inadequate
Adequate
Excellent
Volume (Self-explanatory)
Inadequate
Adequate
Excellent
Posture (This one's context-dependent — were you too ramrod-straight for the situation? Too slouchy?)
Inadequate
Adequate
Excellent
Leaning toward partner (Some personal space is nice, but too much can seem like disinterest)
Inadequate
Adequate
Excellent
Shaking or nervous twitches (Are they too distracting?)
Inadequate
Adequate
Excellent
Unmotivated movements (Ditto — tapping feet, fingers, hair-twirling, etc.)
Inadequate
Adequate
Excellent
Facial expressiveness (Not a blank stare, not some crazy cartoon face)
Inadequate
Adequate
Excellent
Nodding of head in response to partner statements (Not too still or too bobble-headed)
Inadequate
Adequate
Excellent
Use of gestures to emphasize what is being said (The goal is somewhere between keeping your hands stiff at your sides and gesticulating wildly)
Inadequate
Adequate
Excellent
Use of humor and/or stories (They have a place, but sometimes they can take over the conversation.)
Inadequate
Adequate
Excellent
Smiling and/or laughing (Some is good! Unless it's not a happy or funny conversation, in which case, bad.)
Inadequate
Adequate
Excellent
Asking questions (The sweet spot between showing interest and turning a chat into an interrogation)
Inadequate
Adequate
Excellent
Speaking about partner (Did you give them some time to talk about themselves? Too much time?)
Inadequate
Adequate
Excellent
Speaking about self (The other side of the coin: Were you too self-absorbed? Or did you forget to mention yourself at all?)
Inadequate
Adequate
Excellent
Encouragements or agreements (Did you encourage your partner to talk, without seeming sycophantic?)
Inadequate
Adequate
Excellent
Personal-opinion expression (Not too aggressive, but not too much of a doormat, either)
Inadequate
Adequate
Excellent
Initiation of new topics (Was the conversation stuck on one thing for too long?)
Inadequate
Adequate
Excellent
Maintenance of topics and follow-up comments (Once the conversation turned to a new subject, could it be sustained for a reasonable amount of time?)
Inadequate
Adequate
Excellent
Interruption of speaking turns (Interrupting too much is awkward; on the other hand, so is waiting too long after a full stop.)
Inadequate
Adequate
Excellent
Use of time (Did one person dominate the conversation?)
Inadequate
Adequate
Excellent
VERY EXTENSIVE room for improvement (use of behavior was consistently noticeable in its absence, excess, or disruptiveness)
EXTENSIVE room for improvement (use of behavior was often noticeable in its absence, excess, or disruptiveness)
MODERATE room for improvement (use of behavior was occasionally noticeable in its absence, excess, or disruptiveness)
MINIMAL room for improvement (use of behavior was generally skillful, with few absences, excesses, or disruptions)
NO ROOM for improvement (use of behavior was excellent, and revealed no noticeable room for improvement)