One measure of our disconnected times is that none of the barmen at my local, the Café Castiglione, have yet inquired about the new designer at Dior, Maria Grazia Chiuri. There is still time — Chiuri makes her debut on Friday — but in the past such a query would have been routine, even a matter of pride. This is Paris, after all: Since the days of Balzac, Parisians have taken an exceptional interest in what goes on among its couturiers. Everyone had an opinion about John Galliano when he joined Dior. And I suppose that when Karl Lagerfeld calls it quits at Chanel, people will be curious about his successor, since Chanel has only had two designers in its century-long existence.
But generally Parisians seem tuned out. I don't know what the explanation is — the revolving door of talent in recent years? the stupidly high cost of clothes? the fact that Rihanna has her own line? — but it has aggravated the feeling that the shows are isolated, despite being right in the center of Paris. I felt that strongly at Lanvin, where under the gaudy ceiling of Hôtel de Ville, with no fresh air, Bouchra Jarrar presented her first collection. Jarrar replaced Alber Elbaz, whose simple innovations — bias-cut shifts in washed silk, for instance, that had both the control and the fetish kick of an industrial zipper — revived Lanvin from a long slumber. He left raw the edges of fabrics. He turned bits of ribbon and glass into funky pieces of jewelry. In short, Elbaz recognized that women didn't want to look precious in their clothes.
Jarrar, then, is following a designer who not only knew how to read women, but also had practical solutions for them. During a preview with her the day before the show I saw a handful of outfits — a semi-sheer tuxedo shirt with a black side-slit mini, a long striped silk vest and pants, a lovely dress in ultraviolet silk chiffon — that I thought struck a good balance between Lanvin's fluid sex appeal and her own signature tailoring and taste for structure.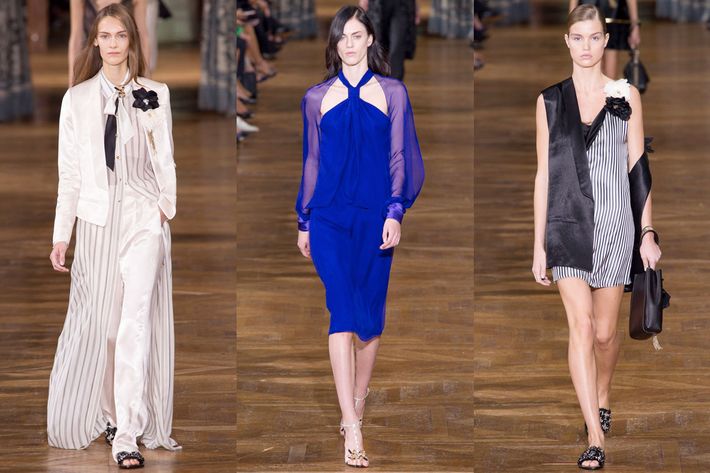 Well, I still think that, but the show certainly complicated things. To begin with, Jarrar should have chosen a more intimate setting, cut her guest list by half, and instead of 49 looks, shown just 25. Jarrar said that one of her missions is to produce more daywear, but among the opening looks were vests and trousers in striped ivory satin, kilts with wide see-through panels, and a liquid shirtdress in pajama-striped silk with jeweled buttons — not exactly easy styles for day. Her strongest pieces, by far, were simply draped evening gowns with a twist of silk at the front, and the violet chiffon number with butterfly sleeves.
Jarrar is an accomplished designer — one of the best of her generation. But while she knows how to make clothes and, even more, give a vision to a brand, she has to determine what's relevant — or risk giving people reason to tune out. Frankly, I'm more interested in Jeanne Lanvin's rich history of modernism (the company apparently has a good archive) than in seeing Jarrar further develop her masculine tailoring with its flourishes of fur and metal hardware. Instead of a difficult-to-wear chiffon kilt or dressy layers of PJ satin, why not a deceptively plain linen or cotton dress? In a way, the challenge for Jarrar is to break out of her mental jail of needing structure in a garment and instead dig into what made Lanvin such a modern feminine force. Surely she's up to it.
Dries Van Noten, by contrast, made everything look easy. He opened with a white T-shirt and a pair of light khaki shorts, followed by a linen sack dress with sun-faded flowers printed on one sleeve and near the neck. On the runway were blocks of ice in which were displayed Dutch Master–colored arrangements of fresh flowers.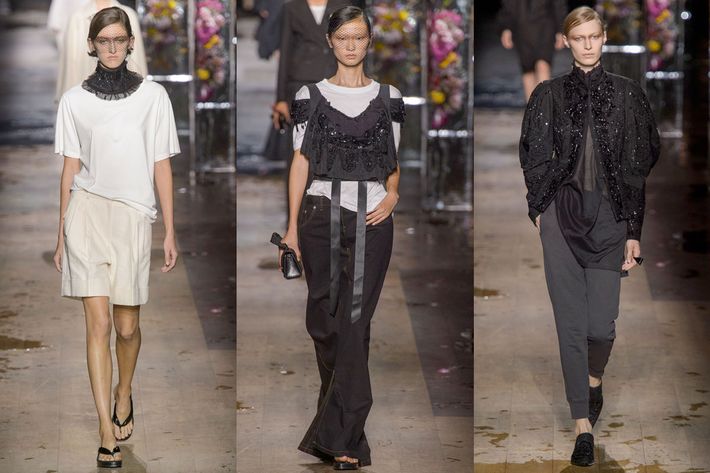 Van Noten is a gardener himself, so he was perfectly at home with the theme. And he made the blooms look edgy, too, by intensifying the colors or blowing out the prints. But what I loved most about this show was his handling of Edwardian-inspired lace and beaded tops, including cropped jackets. In washed silk or cotton, they completely lost their period identity; and worn with wide-leg, off-white twill trousers, or tapered sweatpants, they looked relaxed. And if you want people to connect with what you're doing, that relaxed attitude has to be the endgame.