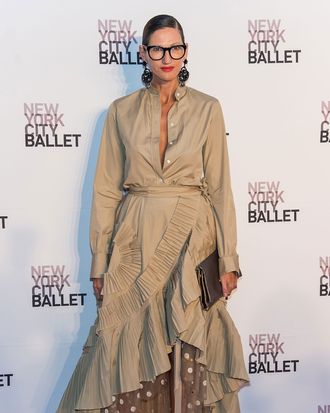 Jenna Lyons.
Photo: Gilbert Carrasquillo/FilmMagic/Getty
"There's so much going on in fashion, and I think one of the things that's getting lost is the connection to people," Jenna Lyons said of hiring real, non-model people for J. Crew's New York Fashion Week show. "And we keep talking about customers, but we're not really talking to them, and it was a way to actually, I don't know, talk to people," she added at the New York City Ballet fall gala on Tuesday, where she wore the khaki ball gown from the new collection.
Lyons said putting the show together and tailoring the pieces for each model made her think about what people really want to wear. "How can you make them feel beautiful and transcend something; surprise them and delight them, but still make them feel connected to who they are?"
She initially made a list of 80 people, more than 90 percent of whom she knew through business or personal relationships; the rest were people she found randomly. "Some people weren't in town, and some people couldn't for whatever reason, but for the most part, everyone was really willing," Lyons said. "Like Sylvana [Ward Durrett] who used to work at Vogue, I just called her, and she said yes. I was, like, really? Okay, great."
Lyons met W magazine writer Vanessa Lawrence, who also modeled, at Giovanna Battaglia's wedding in Capri this June. "The funny thing is I had never met her," Lyons said. "And we ended up hanging out, and I remember looking at her with the sun coming down, and I'm like, You have a gorgeous face, and just a unique, beautiful sense of style, and interest in clothes, but not your typical model. And that, to me, was interesting and really engaging.
Her only selection criterion was to gather a diverse group of models. "Someone said to me, 'Who is your muse?' and I was, like, 'I don't know, someone who likes clothes.' It's not about one individual person, I want everyone to feel beautiful, I want everyone to feel connected to the brand. They don't all have to wear it the same way, I'm totally cool with that, and I love that. That's what makes me want to make clothes, is making people feel beautiful, it doesn't matter what they look like."
They asked the models for their preferences (if there was anything they wouldn't wear, if they preferred to not wear heels), and had them do their makeup the way they'd actually wear it. "This was not about us telling them how to look, this was us looking at them and saying, How do you feel beautiful?"
Lyons found the process to be fun and rewarding. "That was probably one of the most interesting experiences, and super fulfilling. I loved every minute of it." She said she's happy about the buzz the unconventional casting generated. "I'm so pleasantly surprised that it has been positive [feedback] because I think it was a risk, for sure. And it was a lot of work."
As for that hard-boiled egg her assistant brings for her Cobb salad every day? Westville is still using fried eggs, even after Lyons's interview with Bon Appétit. "I thought they would call me and say we'll make a concession, but they did not," she laughed. Trade-offs!