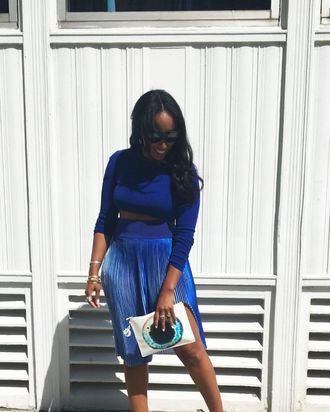 Style Diaries Live is a mini-interview series where we talk to different Fashion Week insiders about their personal style.
Shiona Turini is a consultant, stylist (for little projects like Beyoncé's Formation), and contributor to the Cut. Here's how she decides what to wear for the cameras, her earliest fashion memories, and her tips for getting started in such a tough industry.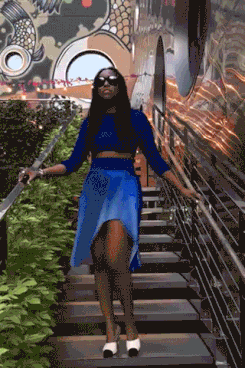 Tell us about your outfit and your thought process while getting dressed.
I'm wearing a Proenza top, Stella skirt, and Chanel heels.

I find it almost impossible to think about what I'm going to wear before it's actually time to get dressed. So I usually set up an extra rolling rack which I store under my couch and fill it with special pieces, anything new I've purchased or received, and a few staples to mix in. I also do a closet clean-out right before Fashion Week and it's a great way to remember hidden gems you forgot about.
After I wake up, I just put on whatever works. I think about whether it has to take me from day to night, what's not going to make my feet hurt, and what combination will get me out of the house in time.
Also, I have a group text of friends who send hilarious themes like "Today, dress like a pirate," and I sometimes try and just make up outfits with them.
Earliest memory of putting together an outfit?
My earliest fashion-related memory is when I was about 5 and decided that I hated pants. I only wanted to wear inappropriate dresses to school. When my mom fought me on it, I got in the car naked. She thought I would bend, but I didn't. I proudly walked up to school in my panties. She couldn't admit defeat, so I stayed home from school that day.
If we were to find a stain on your clothes, what would it most likely be from?
An hour ago I had a meltdown in my bathroom because I got foundation on my new white Alaïa top. Black-girl problems! Brown foundation on clothes is the biggest nightmare. I spent the last 40 minutes trying to scrub it out, I missed a show, and my soul is crushed. I'll never be the same!
Top three favorite Instagram accounts for style inspiration?
Leandra Medine's personal account — I visit it whenever I'm about to travel. I love her outfit combinations and also her captions.
C_L_O is quite beautiful, I love the color palette.
Marjorie Harvey and her account The Lady Loves Couture because they are both so extra and fabulous and amazing.
And as a bonus, @everyoutfitonsatc!
If I could be a fabric I would be …
Velvet — lots of texture but still smooth and rich (lol).
How do you stay focused with a jam-packed fashion week schedule?
I don't. Not, but seriously, a super-organized schedule and friends who are on the same page.
Number-one tip for someone new to navigating the fashion industry?
Doors will get slammed in your face, the struggle will be real, hours will be long, and it's not an easy industry. But hustle hard because it can be such a beautiful experience. And always remember that not one ounce of your self-worth comes from any of this.