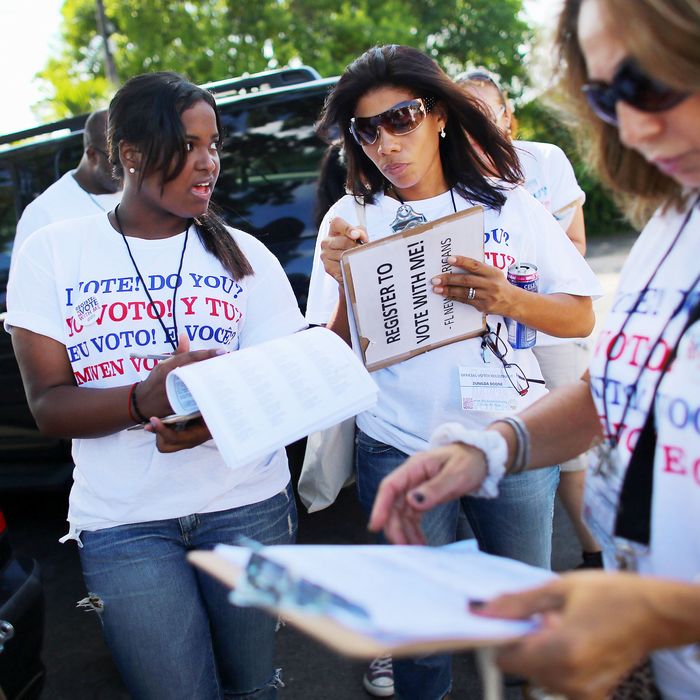 Photo: Joe Raedle/Getty Images
Millennials have officially surpassed baby-boomers as the country's largest living generation, which means that in this year's presidential election, their voices (and their votes) matter more than ever. Indeed, much of the candidates' efforts have been spent trying to win over millennial voters — with varying degrees of success. But, as the Pew Research Center points out, younger generations have historically fallen short of their electoral potential.
Whether or not millennials actually vote depends on a number of factors, one of them being how much effort each candidate puts into engaging with them. And because Hillary Clinton and Donald Trump can't be everywhere at once, they depend on surrogates and volunteer workers to spread their respective messages. In other words, in these last few weeks before the election, your participation could make all the difference. So here are some ideas to get involved beyond posting an aggressive Facebook status.
Register to be a poll worker. You can do this through the government website (or, if you live in New York, you can sign up here). In most cases you'll need to fill out a form, attend a one-hour training class, and pass a test to qualify, but if you do, New York will pay you $200 for working the polls on November 8. As a poll worker, you could be asked to fill a few positions: inspector, poll clerk, information clerk, or accessibility clerk. Inspectors and poll clerks are responsible for a polling station's basic operations, and information clerks let people know where they can go to vote. Plus, you'll get to hand out those "I voted" stickers — win-win.
Organize a voter-registration drive. The American Association of University Women has a great primer on this. Basically, you can recruit a bunch of friends, print out registration forms, and stage a brief takeover of a (public) space with heavy foot traffic to make sure as many people as possible are signed up to vote. Just make sure to return the completed forms to your state's election office by the registration deadline, or all your friendly smiles and polite inquiries will be wasted.
Sign up to register voters through a larger organization. Not up to organizing your own voter-registration drive? Plenty of organizations recruit volunteers to register voters, which means they'll take care of all the details — all you have to do is show up. You can volunteer through a campaign you support or go with a group that doesn't have a political affiliation like Rock the Vote. And if you sign up before September 27, you'll get to participate in National Voter Registration Day — a coordinated effort by thousands of volunteers that's designed to do exactly what it sounds like: make sure people are registered to vote.
Make some phone calls. In most cases you can go to any candidate's website and sign up to cold-call potential voters on their behalf. Most campaigns will have you create an account with a service like ActionID, which will give you names and access to the people you'll be calling. They'll also give you a script, so you don't have to worry about scrambling for talking points or tripping over your words. And if you're feeling anxious about phoning total strangers, just pretend you're Ilana Glazer in that one episode of Broad City.
Become an Election Protection volunteer. Election Protection is a nonpartisan organization led by the Lawyers' Committee for Civil Rights Under Law, and every election it sets up a hotline to make sure voters are fully informed about where and when to cast their ballots. Because volunteers have to give out legal advice, only attorneys, law students, paralegals, and legal assistants are eligible to work for Election Protection. But if that applies to you, you can fill out this form to volunteer on and before Election Day.