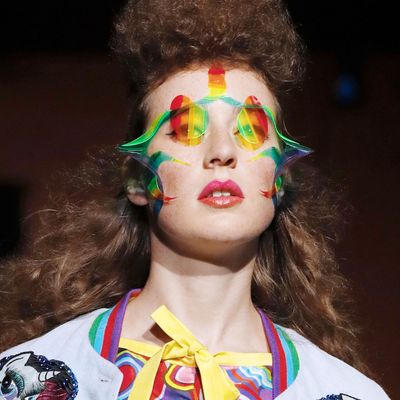 Photo: PATRICK KOVARIK/AFP/Getty Images
The European journalists around me were baffled when I shrieked, "Lisa Frank nails!" at today's Manish Arora presentation. But even if no one else around me understood, the rainbow holographic glitter nails created by manicurist (and Brit) Marian Newman would have matched perfectly with my second-grade Trapper Keeper.
To create the design, which was inspired by "Shiny Happy People" rather than neon dolphins, Newman used top coat as a base. "You know when a top coat gets all gloppy and gluey? That's perfect," she said, adding that a base coat, which is meant to protect the nail base, wouldn't act as an effective adhesive.
Newman then selected several loose holographic glitters in neon yellow, baby pink, hot pink, and light blue, and used an eye-shadow brush to press the glitter into the nail, one diagonal stripe after another. "You really want to press it in," she explained, and the eye-shadow brush allows you to do that. Add another layer of top coat and you'll have nail art that will have rainbow pandas and unicorns clapping with joy.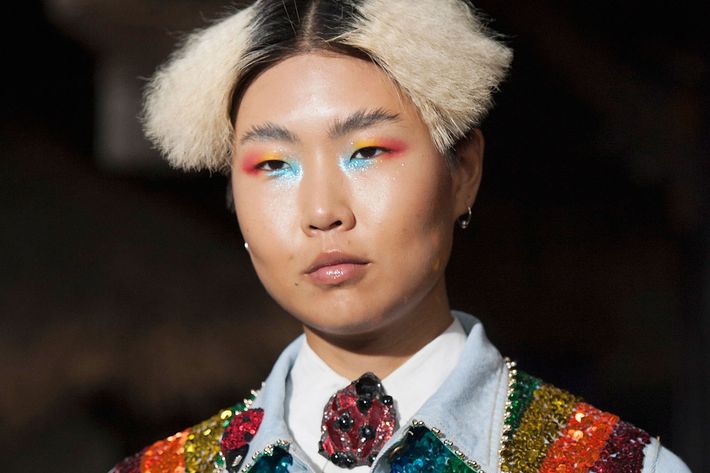 To go with the rainbow nails, makeup artist Kabuki created a thick oblong rainbow across the eyelid using a mix of shadows and makeup acrylics. Beginning from the outer edge of the eye, he used M.A.C basic red acrylic, M.A.C Genuine Orange Acrylic, M.A.C Primary Yellow Acrylic, and then mixed M.A.C True Chartreux and M.A.C Hi Def Cyan to create a teal color that ended at the inner corner.