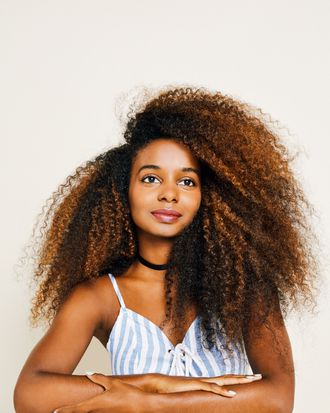 Sunita Ramnarine
Photo: Mindy Byrd
Before Sunita Ramnarine moved to New York a few years ago, her friends only knew her in one light: as a girl with pin-straight hair. But New York changes people, and soon enough she embraced her curls and never looked back. The 28-year-old blogger credits ditching heavy oils as the source of her bouncy curls. What also helps? Avoiding heat, and a really reliable hair mask.
How I describe my hairstyle: My hair is big and fierce.
If I could name my hair, I'd call it: The Lioness.
In my shower you'll find: Everything. I've noticed that when I stay consistent with a product, it doesn't have the same effect over time. It doesn't take a long time for that to happen, so I switch things up all the time. I try all different price ranges and ingredients. I stay away from things that have heavy oils like coconut, jojoba oil, and shea butters — they don't work for my hair. I like really like simple products. The lighter the better — I like my volume.
I really like Pantene Curl Perfection (conditioner), though I think they might have recently changed their ingredients. That's what I used today. Last night I shampooed with Garnier's sulfate-free Curl Nurish shampoo. I don't always do leave-ins but I did one today because I was in Nicaragua and my hair felt like straw. For a leave-in I use Kerastase's Oleo Curl.
I wash my hair every: other week, or about three times a month.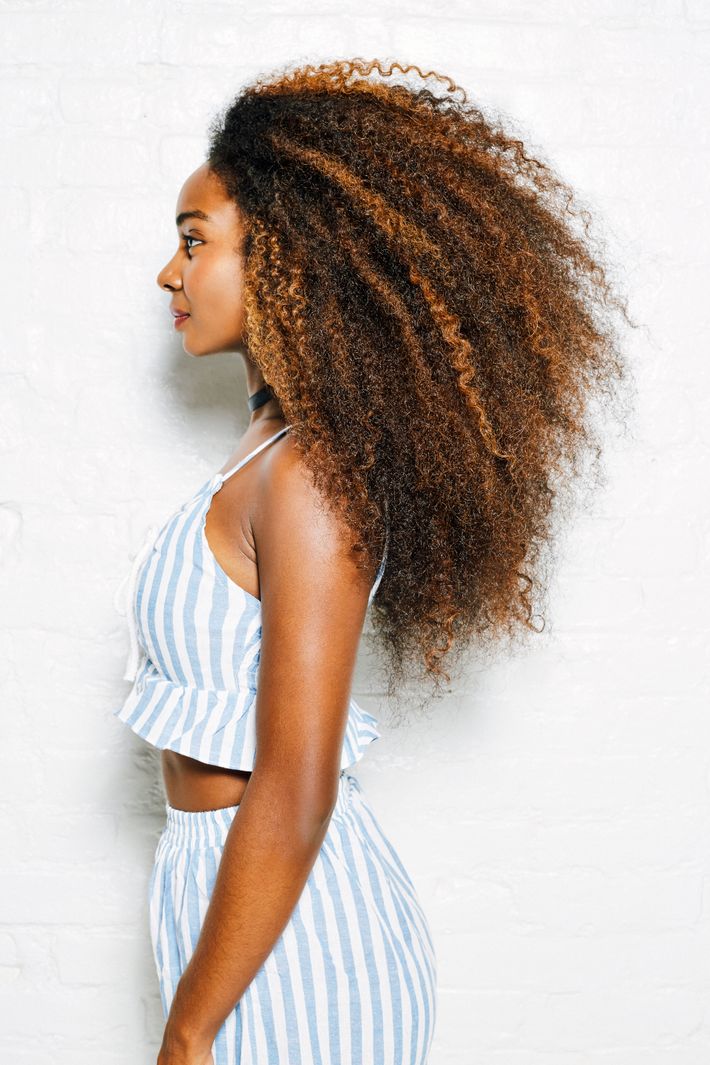 A rundown of my hair regimen looks like: I condition every day, but I don't detangle every day. I rarely use shampoo. I don't wear my hair out and down as often as it looks like I do. I normally wear it up in a messy bun or topknot. That's how I also sleep in my hair.I've tried doing the twist-outs and the braid-outs so I wouldn't have to wet my hair every day, but they don't work for me. My hair looks like it's coarse and resilient but it's actually pretty fine. I use Joico's Hydrating mask. Oh my goodness. After I use it, I can't stop touching my hair.

How long I've had this style: For about two and a half years. I'm from Wisconsin and it's really homogeneous. I didn't want to stand out more than I already did. Coming to New York, you see that it's so freeing. I was so inspired by so many people wearing their natural hair, their natural skin, their natural who-they-are. My boyfriend didn't even know I had curly hair. One day he saw me after I washed my hair and he said: "Wow, you look beautiful. Don't ever straighten your hair." You know you should think that for yourself, but it's so wonderful when someone who cares about you can tell you that.
My hairstylist is: Mizay Jefferson at L'Oréal. He trims and dyes it.
The worst thing I ever did to my hair was: When I was younger I dyed my hair three times in one day and it fell out. I could hold all of my hair in a tiny little fist. And then I straightened it on top of that.
The best thing I ever did to my hair was: stop damaging it with straighteners and blow-dryers.
I trim my hair every: once in a while. I'll trim it myself. You know how you get those tiny little knots? I'll go in and trim those, but the last time I got a trim from a hairstylist was in April. I don't get one that often.
Check all that apply — my hair is dyed, is chemically straightened, is permed, has extensions, is braided/in locs: Dyed!
What I love most about my hair is: I love hearing all the wonderful compliments people give me. It's a confidence booster because it took 26 years for me to be comfortable with the way I look. Before, I kept my hair straight. I have friends who have known me most of my life and didn't know that I didn't have straight hair. I never had a relaxer, but I blew it dry and went over it with a straightener. When I moved to New York I discovered Dominican blowouts and that fried my hair. I was doing them once a week, it was really bad.
The most important thing people with hair like me should know: Don't be hesitant to try a product even if its branding or marketing makes it seem like it's not directed toward you. For a long time I was like, Oh, I have brown skin, I'm a dark person, I only need to be shopping in a certain aisle and the person on the bottle needs to look exactly like me. I was using the wrong products for such a long time. Listen to your hair. And you don't have to spend a lot of money.
Makeup by Niko Lopez for Nars; hair by Rachel McCants for Glamsquad; beauty editor: Ashley Weatherford; photo editor: Raydene Salinas.
This interview has been edited and condensed.