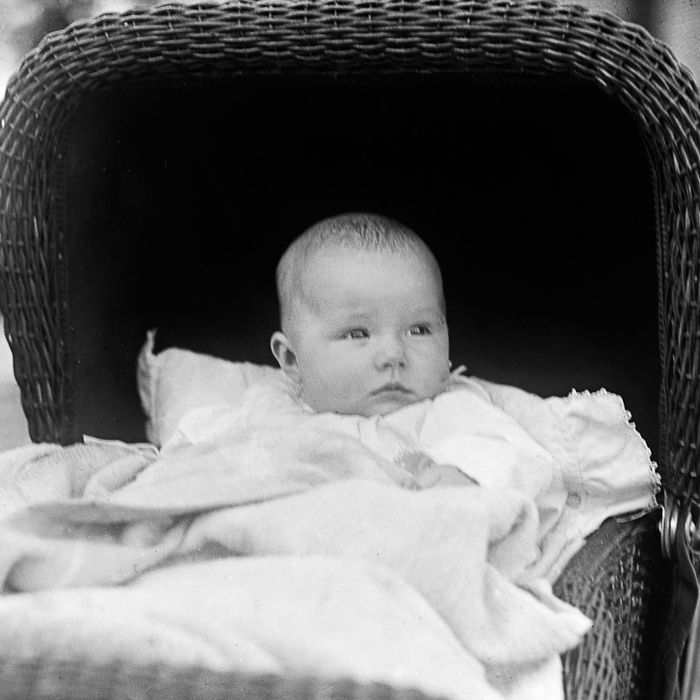 Photo: Jonathan Kirn/Corbis via Getty Images
There are many different ways to be a working mom. In Having It All, women with kids and careers tell us how they organize their lives.
I was basically having a healthy pregnancy when I went in at 27 weeks and learned that my baby wasn't growing as quickly as she should be. The doctors diagnosed me with intrauterine growth restriction. At 28 weeks and two days, I went to the hospital because I wasn't feeling well, and they delivered Elsa the next morning after determining that my placenta couldn't support her anymore. She weighed one pound, seven ounces.
I didn't meet her until she was 26 hours old. In the meantime, all these visitors were in my room, and when someone called from the NICU to say that Elsa needed a blood transfusion, I told them I was about to eat lunch. I was in a state of shock, though I didn't know that then.
My boss was one of the very first people my husband, Scott, and I texted to say that I was in the hospital. I'd been at Ad Age for 12 years at that point and had an incredibly personal, good relationship with her. She's still one of my closest friends. Because of that relationship and the trust equity I had with the company, they never questioned me about how much time off I was going to need.
Elsa was in the hospital for ten weeks, and I was out of the office for about 70 percent of that time. On a typical day, I would drive to the hospital in the morning, spend a little time with Elsa, and go to Starbucks during the doctors' rounds to do some work and send emails and feel like a human being. Then I'd go back to the hospital for a few hours, have lunch, and hunker down in the NICU.
Scott would come after work, and we'd hang out with Elsa for a couple of hours. After that we'd live our weird semi-baby-free life and see friends or get drinks. We'd call the NICU every night at ten, because that's when they'd brief us on Elsa's weigh-in, then we would update our family and friends via a private Facebook group.
One day I was in the office when I got a call from the doctor saying that Elsa was ready to come home. I started hysterically crying, and because my daughter was in the hospital, a woman I worked with came running over terrified. I explained through gasping breaths what was happening. She yelled through the office, "Elsa's coming home!" and 30 people started singing and clapping and cheering. That should give you a sense of why it was the right place to work at that time in my life.
When we finally brought Elsa home, I officially started my three-month maternity leave. It was the best few months. We met a group of moms and babies that we hang out with to this day. It was a totally unexpected perk of parenthood, this group of women who needed each other and have turned into important friends.
Toward the end of my maternity leave, we started interviewing nannies. Audrey was the first of the ten we interviewed to scoop up Elsa first thing instead of sitting down to talk about the job. That sealed the deal. We're really fortunate to have her, plus my mom and three sisters less than an hour away for backup and emergency child care.
When Elsa was about a year and a half old, I took a new position at the Webby Awards overseeing their insights division. At my old company, many working mothers had come before me, and I was just another one making decisions that a lot of people in all parts of the organization understood. Now I'm one of just two working mothers in an office of about 20 people.
I've learned to be smart about communicating the flexibility I need. There are things I don't phrase as an ask, because they're not really negotiable. For example, Elsa had a speech evaluation with the City of New York's early-intervention program, and when the city wants to evaluate something, they tell you when and where. So while I might be thoughtful about making a dentist's appointment really early or not booking lunches, when it came to the speech evaluation, I absolutely didn't think twice about saying, "I need to be in my apartment on Thursday at 11 a.m."
Luckily, the company is open-minded about learning to support working mothers. I'm still navigating being the new person, on top of trying to set a good example by being 100 percent transparent. So if I'm at Elsa's doctor's appointment, or if I'm going to come in late three Thursdays in a row because my nanny has radiation treatment, I'm really upfront about that so they know what's important to me.
Nobody has ever treated me differently because of any of this, which is awesome. It seems this crew of 20-somethings understand more than I'm ashamed to say I did ten years ago, when I was the one burning the midnight oil at the office and the moms were headed home at a reasonable hour.
Scott oversees a digital-operation team at a large media company. At home, he and I split the chores 50 percent. It still feels imbalanced sometimes because even if we're both responsible for packing Elsa's lovey "Ellie," I'm responsible for three backups in case it gets lost or puked on. Or we both cook dinner, and that's great, but I'm the one thinking about what food needs to be in the house and when we're going to run out of milk. Though Scott's a total partner in getting us from point A to B, sometimes I feel like the mechanic. I've told him I feel like the designated worrier and organizer, and he understands and wants to get us to a more balanced place.
My health and sleep don't get much attention, but I remember how my parents sacrificed their friendships to raise me and my sisters, and now they're the most social people I know. This period of childrearing really is the longest shortest time. I think about how quickly Elsa's first two years have gone by, and I realize that the hard stuff won't last forever, but neither will the stuff I love about now.
Elsa sees a physical therapist because we noticed a gross motor delay around 20 months, but now she's walking and running, and her speech is fine. Her prematurity gave me perspective like nothing else ever has. The worst thing that could happen to me did: I was lying down in a hospital bed actively pretending I didn't have a daughter downstairs in the NICU because I assumed she wasn't going to make it. It might sound Pollyanna, but filtering everything through that moment reminds me that nothing is that hard right now.