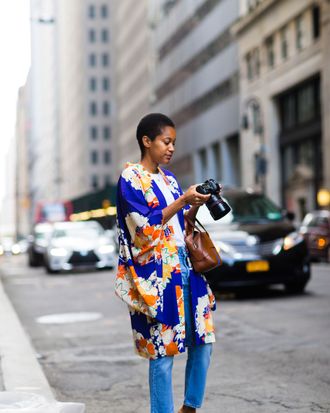 Photo: Nabile Quenum/Getty
Being a street-style photographer isn't the easiest job, what with all the running and elbowing. Add on a second gig as a J.Crew "real person" model, and you have one very busy day. So no one would fault Tamu McPherson for putting on her easiest outfit, but somehow she managed to look relaxed and pulled together.

The combo of kitten-heel mules and jeans is stylish but subdued enough that you might not notice. But then she pulls out a pro move and throws on the printed kimono robe, proving again that street-style folks can do anything better than regular people.