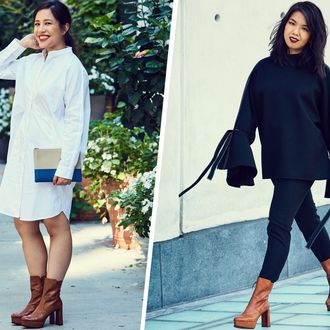 In a season where you can't help but jump around in Bowie-inspired over-the-top boots or look exceedingly cool in affordable black ones, brown boots can feel pretty lame. How can they even compete when it's so tempting to buy a pair with sparkly sequins or lush velvet? But here's the thing: Adding brown boots is an unexpected styling trick that suddenly feels really fresh.
It's okay if you disagree — we were once like you. Neither of us owns a pair of shoes even remotely close to brown. Diana is a summer goth who prefers black clothes and dark lipstick. Kathleen is the polar opposite — she's always smiling and loves a bright color. But somehow these platform Stuart Weitzman boots won us both over. Scroll ahead to find out why.
Wearing Brown Boots the Balenciaga-ish Way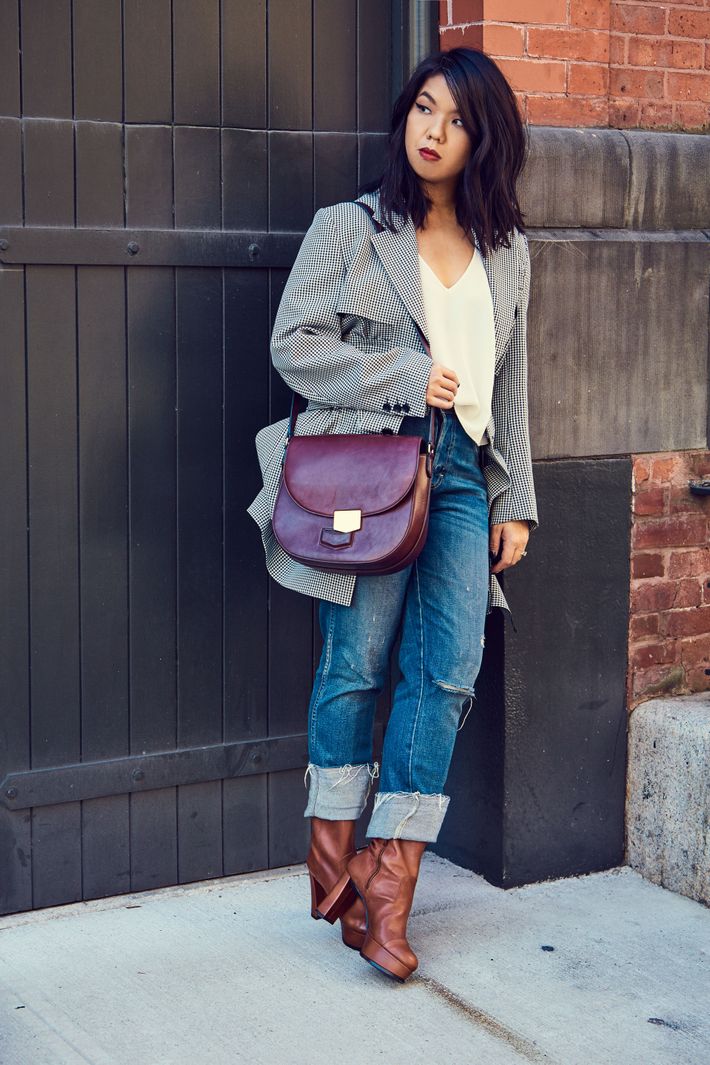 Diana: As someone who uses the words brown boots as an insult, I figured the chances I would ever wear a pair were slim to none. Then I (like everyone else) fell in love with Balenciaga's fall show. The mix of weird, oversized menswear, brown with black, and denim was outside my comfort zone: I already owned all the separate pieces, but I'd never thought to put it all together, until now.
I bought this Comme des Garçons blazer at their infamous sample sale this year. With its strong shoulders, woven back detail, and houndstooth pattern, the jacket isn't exactly subtle. Worn with high-waisted jeans and brown boots, the effect is less severe and more spontaneous than if I had chosen black ones.
Comme des Garçons blazer, $272 for similar, Yoox; Wilfred Chelles blouse, $110, Aritzia; AMO Babe jeans, $268, The Line; Stuart Weitzman Tipico boots, $595, Stuart Weitzman
Wearing Brown Boots the Vetements Way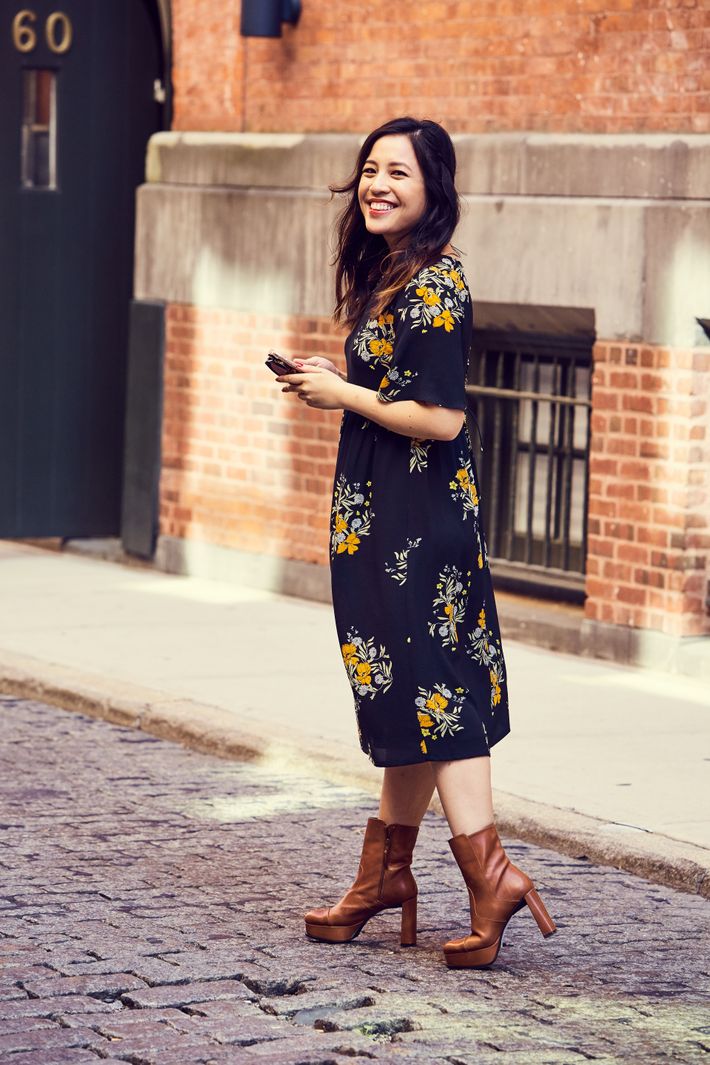 Kathleen: Of course, you can't talk about Balenciaga without mentioning the other major brand everyone's obsessing over: Vetements. My dress is technically more Vetements by way of Zara, but isn't that the point of Vetements? Since I bought it last spring it's been my favorite piece to wear, and by pairing it with brown boots I can easily transition it to fall. The length of the dress combined with the boots gives me enough leg to avoid my greatest stylistic fear, cankles. Plus, the stacked heel helps make what could be an overly boho dress into a stronger look.
Zara floral dress, $169 for similar, Zara; Stuart Weitzman Tipico boots, $595, Stuart Weitzman
Wearing Brown Boots With Head-to-Toe Black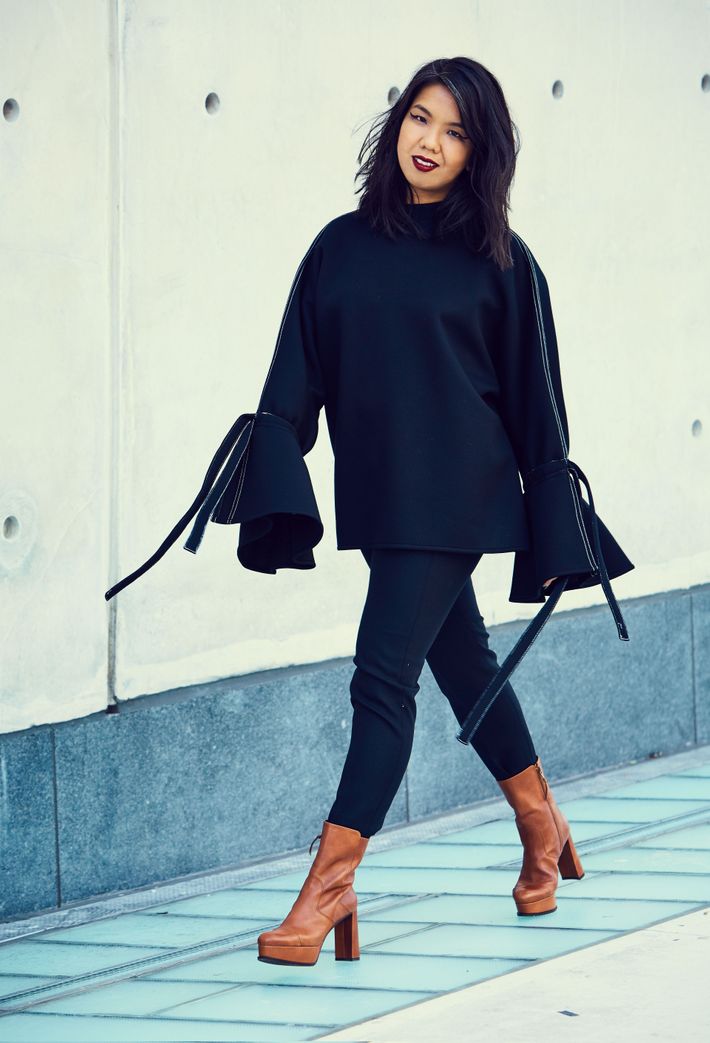 Diana: If you looked at my closet, you would find about 80 percent black. That's not to say it's boring — I look for pieces with really interesting details, like this Beaufille top with its crazy bell sleeves. I love it over slim J.Crew pants since their petite cut hits my ankle perfectly (though I do recommend sizing up.)
It'd be predictable to toss on black shoes and call it a day, but these brown platform boots really stand out against the rest of the outfit. Plus, they somehow make the sleeves even more dramatic.
The inevitable question for boots that hit above the ankle is whether or not to tuck your pants in. In this case, the pants were slim enough to slip them in, creating a clean line. If it's a cropped pair of jeans, though, leave them out.
Beaufille neoprene sweatshirt, $620, Intermix; J.Crew Martie pants, $120, J.Crew; Stuart Weitzman Tipico boots, $595, Stuart Weitzman
Wearing Brown Boots With All-White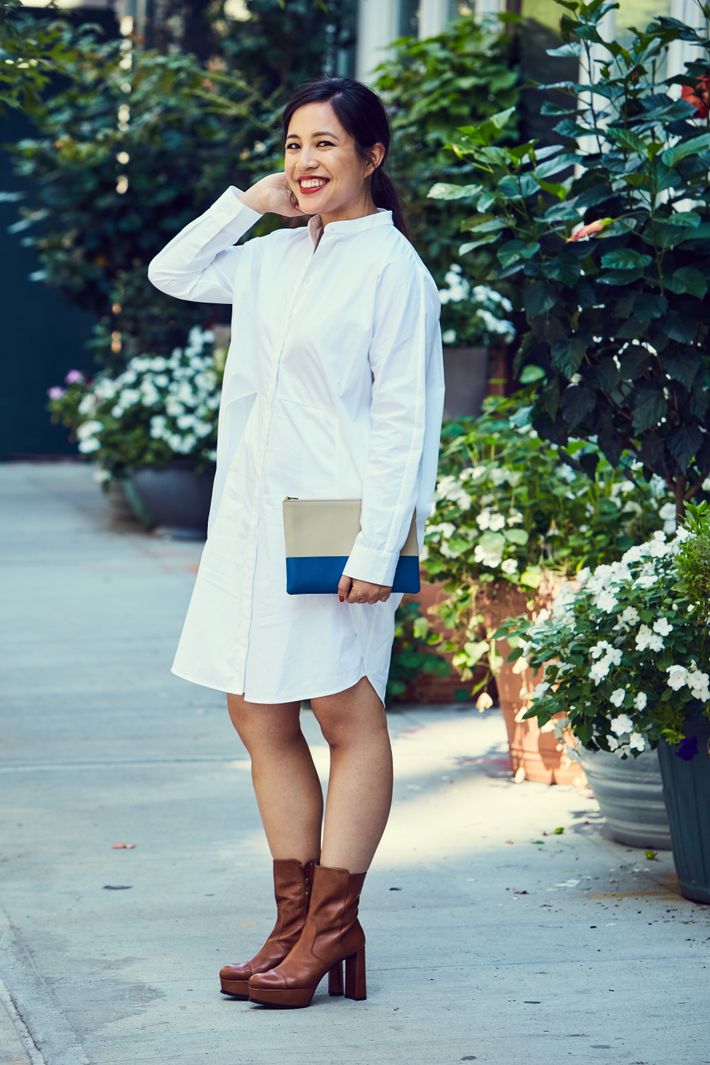 Kathleen: White goes with everything, so it seems like a no-brainer that a white dress and brown boots would go together. But these boots give the dress the grit that a pump or sandal wouldn't, and they're simple enough that details like the pleating and kimono back don't get lost.
COS Kimono sleeve shirt dress, $125, COS; Stuart Weitzman Tipico boots, $595, Stuart Weitzman