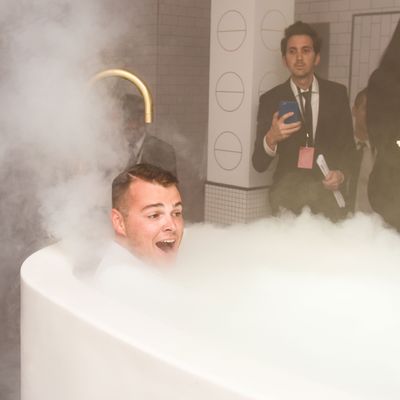 Welcome to the chillest Fashion Week party.
Photo: Leandro Justen/BFA.com
Uniformed footmen stood at attention on Fifth Avenue on Wednesday evening, on a red carpet that wrapped around onto 52nd Street, ready to greet guests celebrating the reopening of the Cartier mansion after a multi-year renovation. A staffer reviewed the ranks, adjusting bowties and red jackets, tugging on hats to get the perfect angle.
Cartier officials with French accents welcomed partygoers from various circles; artist Chuck Close; chefs Eric Ripert, Daniel Boulud, and David Chang; Sofia Coppola, Graydon and Anna Carter, Jay Fielden, Glenda Bailey, Taylor Schilling, Rooney Mara, Russell Westbrook, and Lewis Hamilton among them. Katie Holmes wore a floor-length Valentino gown; she brought her mother, who was celebrating her birthday.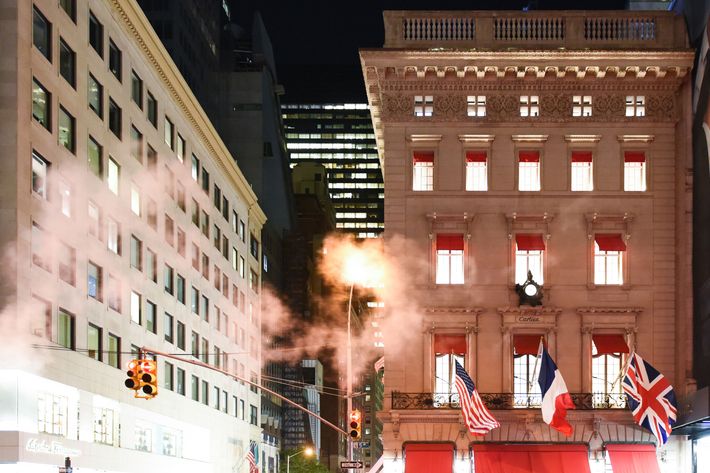 But despite the uniformed footmen and fancy clothes, this party was loose and informal. Cartier meant for their guests to have fun, and created an evening that included entertainment on every floor. One room had been cleared so that dancers could perform, Kanye protégée Kacy Hill jumped onto a platform smack in the middle of the selling floor and sang a few songs, and Paul Sevigny DJ'd on the sixth-floor terrace overlooking Fifth Avenue. At an after-party, the fashionable crowd took selfies in a steam bath and guzzled "ironing board" grilled-cheese sandwiches actually warmed with old-fashioned clothing irons.
The mansion was packed on all five floors, and celebrities were everywhere you looked. I spotted Patti Smith, Martha Stewart, Tavi Gevinson, Peter Brant Jr., Jourdan Dunn, Neil Patrick Harris, and David Burtka, and Zachary Quinto, all dressed to the nines.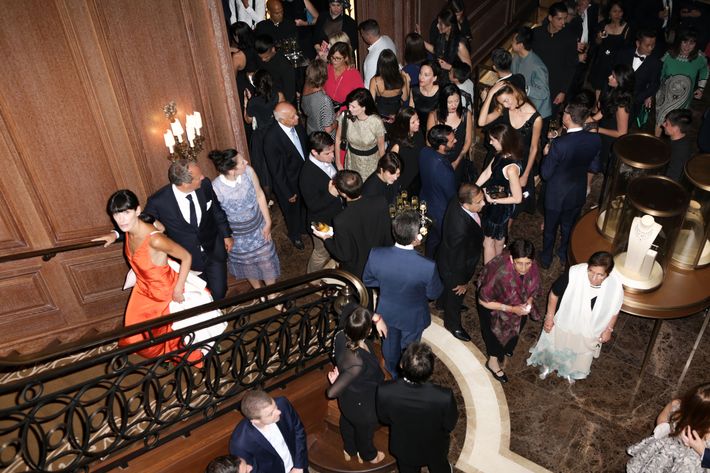 Chloë Grace Moretz wore a 1938 Cartier diamond bracelet with circa 1945 earrings. "I feel like this is basically a moment in time which you can't repeat," she said of the vintage jewels. "I can't imagine the amazing people and stars that might have worn this before me."
"The pieces that I'm wearing are museum pieces, I feel," Sienna Miller told us of her 1920s-era Deco pieces. "I wish I didn't have to take them off after tonight," she laughed.
In a fourth-floor room full of accessories — stationery, pens and leather goods, plus an insanely long line for the caviar bar. A staffer gallantly gave me her spot; they'd run out of plates, and, the waiter said, they'd soon run out of caviar.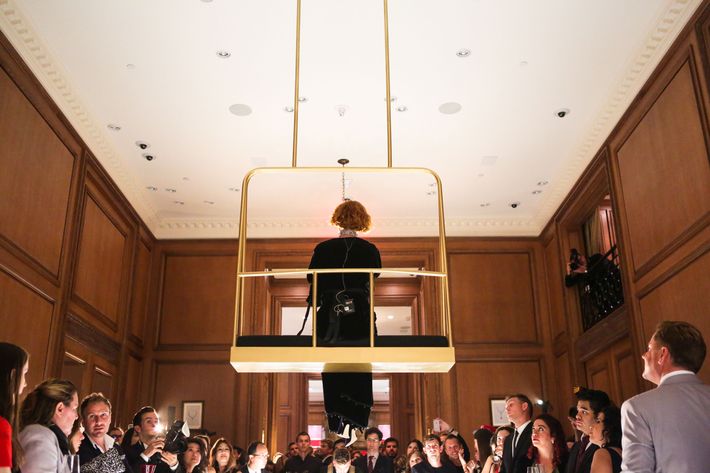 Thierry Despont, the French-born, New York–based designer who masterminded the historic mansion's gut renovation, was affable and funny when the Cut caught up with him. Despont — whose other recent projects include the Ritz Paris, the Woolworth Building, and the Plaza Hotel — led us into a room flanked with photos of Elizabeth Taylor by a swimming pool wearing a giant diamond and ruby necklace. In one, Richard Burton is placing it on her neck.
"It's a place full of memories, and the fun part of the project was to somehow meet those people that have been here, from Grace Kelly to Elizabeth Taylor," Despont said. "To imagine Liz Taylor receiving this amazing diamond and ruby necklace while she's at the swimming pool, it's unbelievable."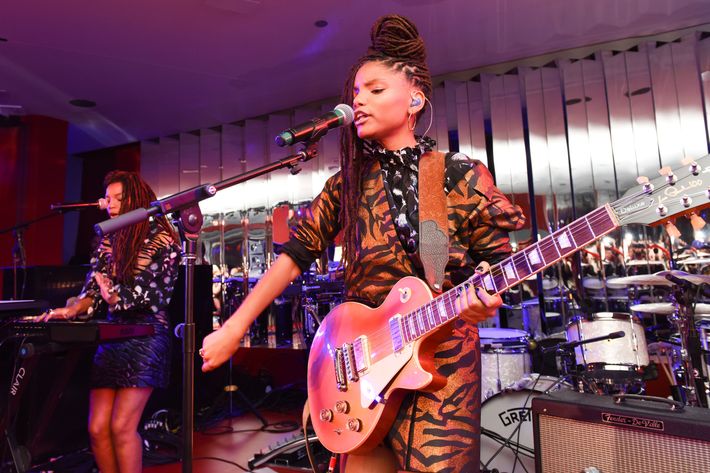 An oval room is dedicated to Grace Kelly, who, he says, often wore Cartier. "I created a room where they're going to sell engagement rings, so you like to think only women madly in love are going to go there with their fiancés," Despont said.
Andy Warhol appears, as does Gary Cooper, and Mrs. Plant, who legend has it persuaded her husband to trade the house to Pierre Cartier in exchange for a $1 million pearl necklace. Despont also re-created Pierre Cartier's library.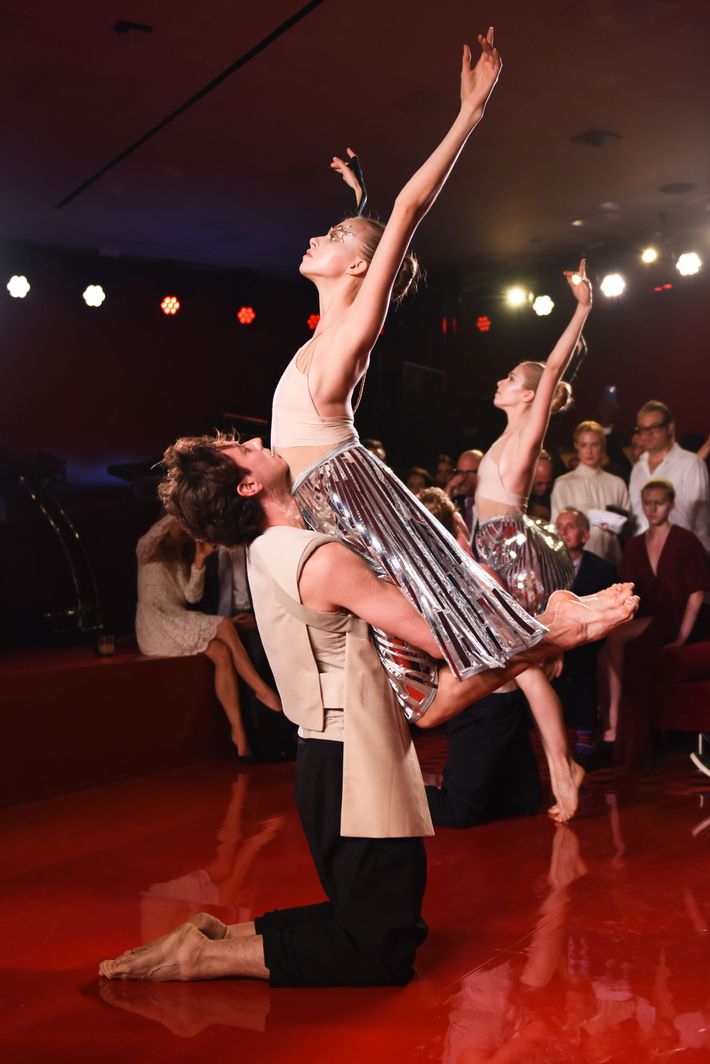 "There's never been a great house without the dream and memories of its owner," Despont told me. "Architects flatter themselves thinking they do great houses; it's not true. The owner makes a great house. So it was a great house, it was a great honor, and lots of dreams and memories, and I was trying to recapture them."
The whole bash later moved across the street, or rather, expanded, because the mansion stayed crowded all night. Outside on Fifth Avenue, partygoers found that the uniformed footmen had formed a column, blocking traffic, through which they crossed over to the other side.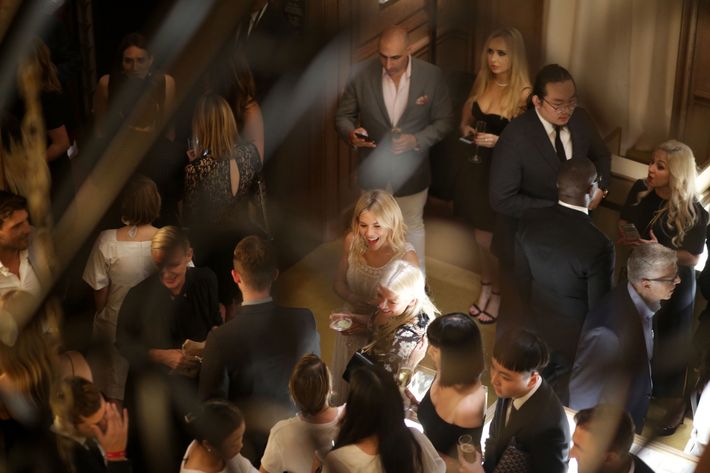 At this "after-party" in a two-story space, in addition to the ironing-board grilled cheese, waiters circulated with more comfort food; pigs in blankets, mini burgers, jumbo shrimp cocktail and (really great) fried chicken sandwiches complete with pickles.
Upstairs, an enormous tiled room — was this place once a spa? — had a bathtub in the center, filled with dry ice spouting clouds of hair-curling steam into which stiletto-heeled partygoers climbed, creating the perfect Instagram moment.
The dance floor was packed even before Chloe & Halle took the stage to perform. Around 11:30 p.m., a surprise set from Ellie Goulding had everybody dancing, and afterward, instead of losing steam, Questlove revved the party up spinning tunes.