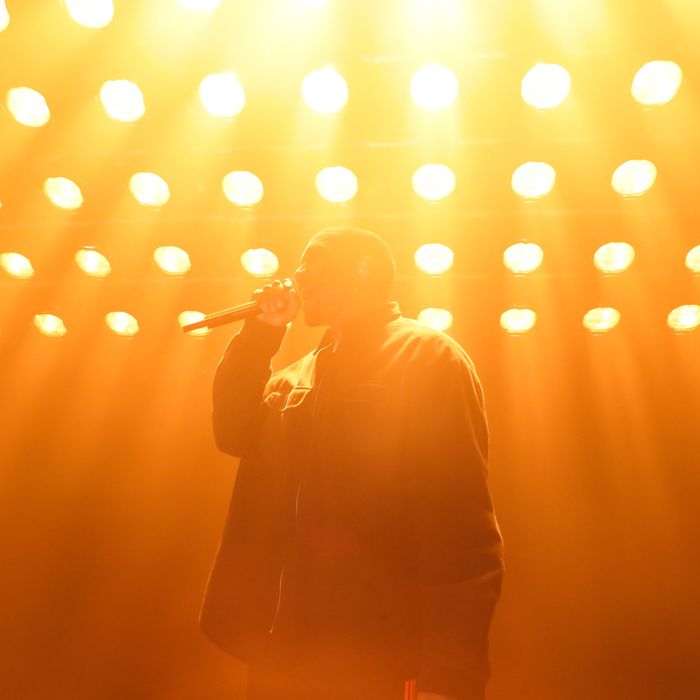 Photo: Neil Rasmus/BFA.com
Only the Kardashians could turn a black-tie gala at the Plaza Hotel into a family reunion. This year's Harper's Bazaar Icons issue features both Kim Kardashian and Kanye West, and at the party in its honor on Friday night, Kim's relatives were everywhere.
It started with a very blonde Kylie Jenner walking the red carpet hand-in-hand with boyfriend Tyga. An eclectic parade of non-Kardashians followed: Christina Hendricks, Rosie Perez, Will.I.Am, Adriana Lima, Emily Ratajkowski, Jeremy Scott, Alessandra Ambrosio, Stacey Bendet, and Bazaar's editor-in-chief, Glenda Bailey. Bailey hailed the talents of Carine Roitfeld and Stephen Gan, who co-create the annual Icons issue. (Roitfeld and Gan did not walk the red carpet together — so is that reported feud between the one-time besties real?)
Around 10:30pm, Kim walked the red carpet, solo. Where was Kanye? He was due to perform at the event. Nobody knew. Kim was about to step onto the elevator when a woman wearing a green Pablo jacket came over and embraced her. It was her mom, Kris Jenner. The two decided to take the stairs up to the Plaza Hotel's ballroom, causing a major traffic jam as photographers swarmed.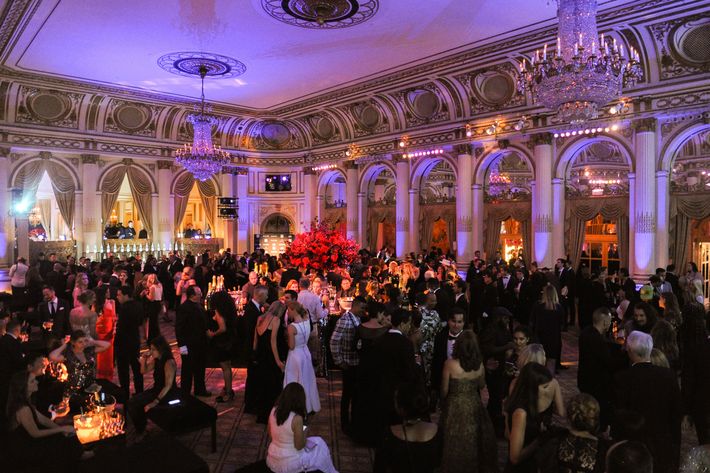 It was packed in the reception area outside the ballroom. I spotted Kate Upton, Linda Fargo, Nick Cannon, Anna Cleveland, and Pamela Anderson in the first 30 seconds. Guests who asked for water were offered beer instead — Stella Artois was a sponsor, it turns out, with Infor and Laura Mercier. (There were fully stocked bars inside the ballroom, though.)
Inside the darkened ballroom, a TV crew walked by, toting cameras and sound equipment and parting the crowd like it was the Red Sea. It was Kendall Jenner, filming her show. The Kardashian-Jenner clan really might be modern-day deities.
The KUWTK crew stopped by a bar, and Jasmine Sanders came over to chat with Kendall. A photographer started snapping, and suddenly, Kaia Gerber jumped in to photobomb. "That was the best photo I've gotten all night," the Getty photographer said.
After the celebs drifted away, a young woman in a chic headscarf hijab scooted over, spoke to Kendall, and they took a selfie together. A few other people also approached her for pics, and Kendall was game. The woman wearing the hijab later said that Kendall was really nice and friendly.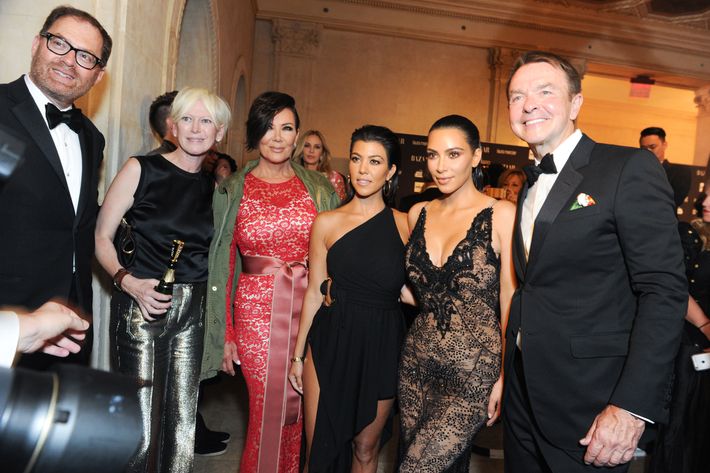 After the delayed hellscape that was Yeezy Season 4, we all wondered: When would Kanye begin his show? "He'll definitely be late," predicted Ann Dexter-Jones. But then at precisely 11 p.m., the lights went down, a Hearst exec said a few words, and Kanye took the stage amid orange lights and a foggy mist.
His half-hour concert was electrifying. He did hits from throughout his career, starting off with "Father Stretch My Hands" from The Life of Pablo. The crowd ate it up: Literally everyone was singing along to each song. During "All of the Lights," Kanye came down off the stage and walked through the audience, singing all the while. He extended a middle finger all through "To the World." When "Black Skinhead" began, he tore off his jacket and danced up a storm.
At the end, Kanye seemed to allude to the bad press he's gotten this week over his Yeezy fashion show, which began two hours late, forcing fashion editors to wait in the hot sun and models to faint.
"You know, at the beginning of this performance, I tried my best not to try," he told the crowd. "No, I tried to listen to all the reports, and I tried my best to stop trying. But I just couldn't do it! I couldn't stop! No matter what they write, I just couldn't stop!" He went on:
I do thank you all for going on this journey for me. I appreciate all the years y'all put up with me learning in front of you and listening to the music at the same time. I appreciate the moment when Carine put her friend on the cover. No, not this woman — I'm talking about when she put Tom Ford on the cover. And all of you motherfuckers were, like, Ah, Carine, I don't know about that!
"But she a motherfuckin' icon now," he concluded and just walked off the stage. The lights came back on, and there was stunned silence for a moment. The concert was over.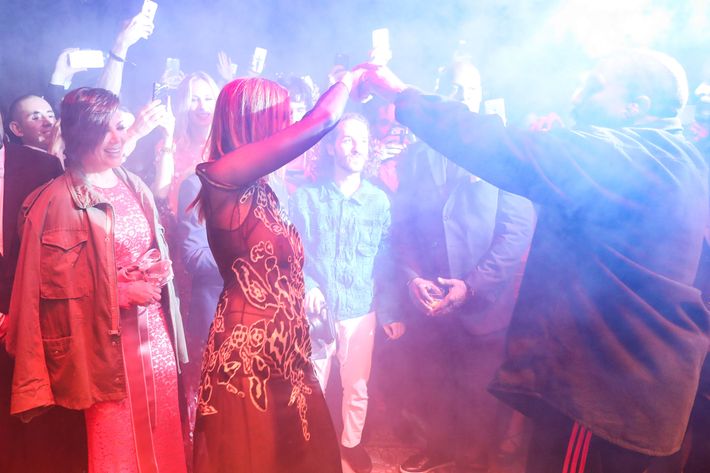 Everybody lingered, nibbling on chocolates that had been laid out on tables and sipping Champagne. Alexandra Richards said she had never seen Kanye perform live before, and it was an experience: "Like I saw Madonna perform, it was an experience."
Linda Fargo shrugged off the late start of his fashion show, saying, "It's Kanye." Joe Zee was ecstatic. "I love his music," Zee said. "I love, love, love this album so much, and the music is amazing. He's an incredible performer; he's very magnetic, in a way, when he performs his music, because it's so personal to him. Whatever people want to say about him, he's a really, really good musical artist."
Does Zee think this excellent performance redeemed him from the debacle of the other day? "I don't know. Fashion people love to complain. I mean, yes, I got a sunburn from it, but will this redeem him? I think this sort of already redeemed him. It's a really good album."