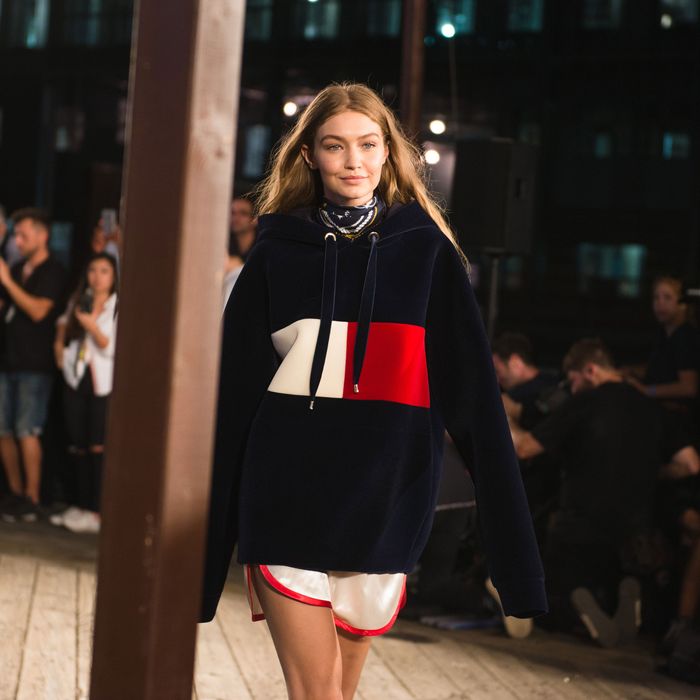 If you weren't dying from the humidity, it was very cute. (I was walking, dead.)
Photo: Hunter Abrams/BFA.com
Rumor had it that 2000 people were expected at last night's Tommy Hilfigershow at Battery Park. Half were industry insiders; the other half, as one respected fashion publication put it, were "normals." The extravaganza showcased Tommy x Gigi, the designer's collaboration with Gigi Hadid, which became available for purchase immediately after the presentation.
For the occasion, Pier 16 was done up like a carnival. Taylor Swift was there. The humidity was stifling. It's safe to say that nothing about the event was remotely normal.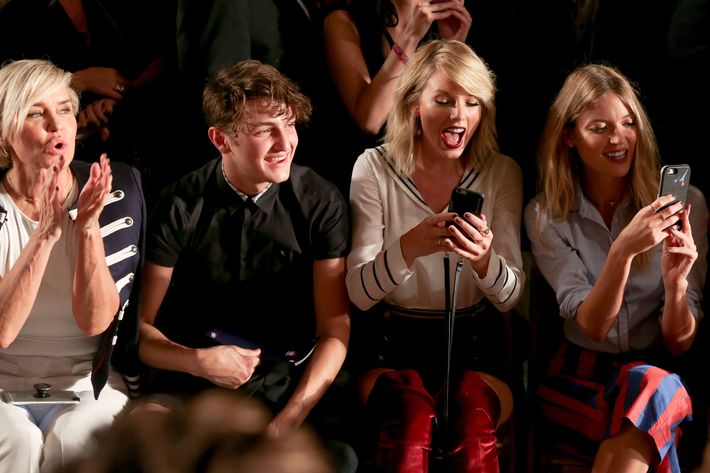 In addition to Taylor, the very, very famous guests included Kris Jenner. Merely famous guests included Gigi's mom Yolanda Hadid and her model son, Anwar, both of whom are beautiful. (But why has Bella, my favorite, been MIA this week? Is she starring in a franchise superhero film or something?) Also: Anna Wintour. Chanel Iman, Hailey Baldwin, Hanne Gaby, et al were there, walking rather than sitting, as is the model way.
The space was lit by a giant Tommy Pier marquee, with lots of twinkling lights strewn about the catwalk. It was very cute. There was a lobster and French fries stand – also cute, though not many were eating. (Not necessary for all the usual fashion stereotype reasons! They were unloading the lobster in the humidity from ziplock bags.) Also present: arcade and carnival games, rides, and the one thing every carnival needs most, decent WiFi.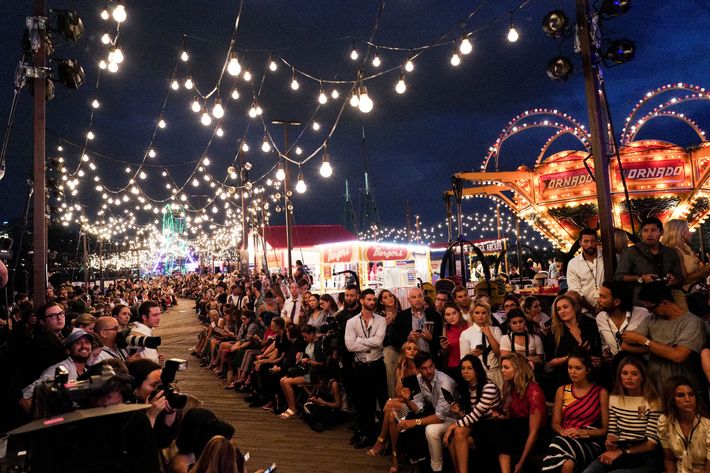 The show was meant to start at 7 p.m. Anna, in floral, was already seated when I arrived around 6:50-ish. Taylor arrived at 7:30, which is basically right on time for an A-lister at NYFW, yet I only heard a single "We love you Taylor!" shout. Kris followed literally five minutes later to shouts of…nothing. This was the celebrity section, away from the normals, after all.
I bumped into a normal friend, and we compared heatstroke symptoms. Then we noticed that neither Anna, nor Taylor, nor Kris were sweating. Instead of sweating, Taylor was bopping in her seat to "This Is What You Came For," the song she wrote for ex-boyfriend Calvin Harris and Rihanna. "Where are your sweat glands?" I wanted to ask them, but alas, I am a normal, and no one would let me approach.