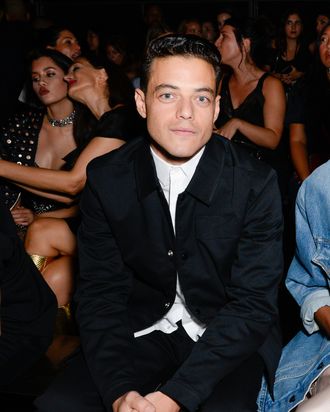 Rami Malek.
Photo: Presley Ann/Patrick McMullan via Getty Image
Rami Malek may not be a Fashion Week regular, but he seems to know how to choose his runway shows. "I'm a huge fan," the Mr. Robot star told the Cut of why he attended Alexander Wang's show on Saturday. "I think his work ethic and where he's come from is a great story, so I'm happy to celebrate an artist like that. I'm just thrilled to see what's in store tonight."
We asked about his previous experiences sitting front row, and the affable actor replied, "I went to Dior in Paris. That was a pretty extravagant, special experience. It seems like the spectacle is only enhanced year by year." Oh.
Sadly, Wang's catwalk and his dystopian Coney Island–like after-party will mark Malek's only appearance at New York Fashion Week. "I've got to go to Toronto tomorrow for the film festival, so I thought I'd stop by here and clock a great one in."