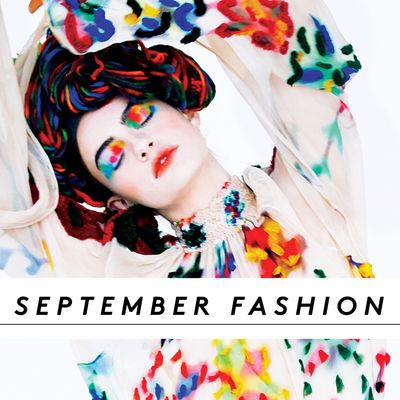 One of the most appealing, and also problematic, things about fashion is its disconnect from the rest of the world. It's a bubble, a respite, a safe space to think about boots and bags when the news gets too grim to bear. Fashion Week is a world out of time, a land where everyone lives six months in the future, where current events are meaningless because "next" is more important than "now."
Over the last few years, though, reality has come bleeding in. Designers have started acknowledging that their customers like to shop in the moment, because that's where they live. Protesters, observers, and even some insiders have begun to argue that a fantasy with no diversity isn't a fantasy shared by all.
At the Cut, we've been analyzing how the fashion world will need to change to keep up with this new reality. We're not quite there yet, as you'll soon see when New York Fashion Week begins on September 8. But this season, we wanted to expand on our analysis, bringing you editorial shoots and guides for the way you actually live, including clothes that you can buy today, right now, for your fall and winter wardrobes.
So in addition to our detailed coverage of all things Fashion Week, we put together a September Fashion "Issue" of original shoots and stories. Photographer Erik Madigan Heck shot the season's explosion of lush florals (see the image above for a teaser). Zora Sicher and Rebecca Ramsey assembled a coven of cool New York City teens, shot entirely in Marc Jacobs' Edward Gorey–esque collection. Tetsu Kubota photographed one of fashion's favorite new models, Selena Forrest, and Véronique Hyland interviewed her about the time she removed her own braces for the sake of a gig.
Diana Tsui worked with photographer Shaniqwa Jarvis to shoot the band The Skins jumping around in the most Bowie-inspired boots. Blogger Nadia Aboulhosn styled four different trends without worrying about whether her models were straight-size or plus-size, and her photos remind us that fashion could be a much more inclusive place. There's a lot more, as you'll discover as the month unfolds.
And don't worry, we'll still have detailed coverage of literally every single entertaining thing that happens at Fashion Week. So look forward to Cathy Horyn's authoritative takes, Véronique Hyland on everything emerging, our fashion editors' favorite looks, and our behind-the-scenes beauty coverage by Linda Wells, Kathleen Hou, and Ashley Weatherford. Look for contributing editor Shiona Turini on our Snapchat, Allie Jones on the celebrity circus, and the Golden Peacock Award to keep those aspiring street-style stars on their toes. If it's interesting, if it's relevant, if it relates to your life as a woman in the fall of 2016, you'll find it here.