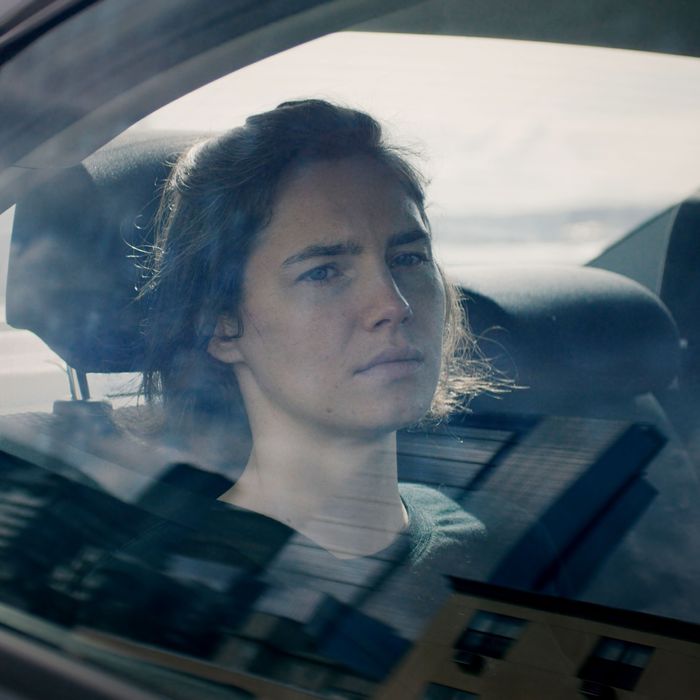 In the fall of 2010, I flew to Perugia, Italy, where I would spend the first semester of my senior year of college abroad. I had chosen the small Umbrian city partially because I found a program that allowed me to pursue an independent study and partially because I was hoping to improve my Italian, which, despite a father who'd grown up in Milan, was embarrassingly shoddy. Before I set off for my trip, I remember being preoccupied with the mundanities of study abroad: coordinating my flights, figuring out what to pack, researching cell-phone plans. The last thing on my mind was Amanda Knox, whose infamous trial had occurred the previous year.
It's funny to think about that now, considering how Knox — and the brutal murder with which she's associated — is now arguably the most famous figure from Perugia's centuries-long history. In November 2007, British student Meredith Kercher was found sexually assaulted and murdered in the apartment she was renting with two Italian women and one American. The latter, Seattle native Knox, would be found guilty for the crime and sentenced to 26 years in prison, along with her Italian boyfriend of one week, Raffaele Sollecito, who received 25 years — but not before she was painted as a cold-blooded, sex-obsessed, she-devil in the international media. (Rudy Guede, an Ivory Coast native raised in Italy, was also found guilty of Kercher's murder after his DNA was discovered all over her room. He's serving a reduced 16-year sentence in prison.)
Perugia is a small medieval city whose charm, architecture, and breathtaking views live up to its Google Images search results. Before I arrived, I couldn't imagine something as terrible as Kercher's murder happening somewhere that seemed so quaint and wholesome — one of the annual attractions it's known for is a chocolate festival, for chrissake. But thanks to the Università per Stranieri, or University for Foreigners, it's a notably transient city, in which thousands of new students arrive each semester. The nightlife caters heavily to that influx of young people and the city's seedy underbelly was more visible than not. The Knox case was quietly omnipresent — from the warnings to new American students that "Italian women don't get drunk" to the section at the local bookstore that housed laughably bad true-crime books about the Knox case from writers who wanted to cash in on the mania.
I didn't quite know what to think of Knox. I knew that prosecutors made Knox out to be a kinky, sex-obsessed deviant — she had, after all, admitted that she slept with an apparently scandalous total of seven men, information that surfaced only after the police lied to her about being HIV-positive. This seemed like a natural extension of the pervasive stereotype among Italian men that American women are notoriously easy lays (immortalized forever in this old, spot-on Onion article). And when Knox was said to have lacked emotion and acted oddly after Kercher's death — kissing Sollecito, doing cartwheels, buying red underwear — I understood why that was so troubling to the prosecution. Americans love to romanticize Italy as a charmingly laid-back country where anything goes — I blame Under the Tuscan Sun and Eat, Pray, Love — but growing up with an Italian father gave me a glimpse into how stringent and traditionalist the culture can be. It's governed by the concept of "fare bella figura" — making a good impression — which encapsulates both looking, dressing, and behaving in a way that gives off a positive and proper impression, in a sense that's often intertwined with morality. Knox failed to do that, not realizing how offensive and suspicious the people around her would find her behavior.
Midway through my time in Perugia, Knox and Sollecito's appeals trial began. The following year, they were acquitted and cleared of murder. In 2014, after Knox had returned to America, a Florence court retried them and found them guilty again, sentencing the pair to 28.5 and 25 years in prison respectively. Finally, in 2015, Italy's Supreme Court of Cassation definitively exonerated Knox and Sollecito for the murder of Meredith Kercher. Yet still, knowing all this, I had absorbed the general sense that Knox was involved somehow — plus, the police work had been so botched and the coverage so sensationalist that getting a clear and straightforward account of the case seemed unlikely. But then I saw Amanda Knox, which cut through the noise to deliver a succinct retelling of the story.

Rod Blackhurst and Brian McGinn's new documentary, which premiered at the Toronto International Film Festival and will make its Netflix debut on September 30, is a spectacularly crafted reflection on the Knox case that — despite the myriad of stories out there — feels fresh. The filmmakers started making their movie in 2011, long before Knox and Sollecito were exonerated. "We were interested in understanding why something so dark and tragic had been turned into this very salacious, titillating piece of entertainment that we were observing from afar," Blackhurst tells me over the phone.
In this quest for understanding, Blackhurst and McGinn travel through the linear narrative of the case, interspersing archival footage with intimate interviews with key players — mainly Knox, Sollecito, prosecutor Giuliano Mignini, and then–Daily Mail journalist Nick Pisa. The access to Knox and Sollecito is impressive, but it's the screen time featuring the other key players that illuminates exactly how this case went off the rails. Mignini, for his part, speaks of being convinced of Knox's guilt because of various Sherlock Holmesian hunches; for instance, Kercher's dead body was found covered with a comforter, and Mignini believes that "a man would never think to cover her with a blanket." (Never mind things like, you know, DNA evidence.) The consistently smug Pisa — who was responsible for publishing Knox's leaked prison diaries, for fueling rumors that Kercher died during a drug-fueled orgy, and for popularizing the nickname "Foxy Knoxy" — doesn't just defend his stories under the premise that he was simply doing his job, but goes so far as to congratulate himself for the work he did.
Because of the filmmakers' revulsion at the tabloid version of events, Amanda Knox is painstakingly straightforward. "We saw how strong everyone's opinions were on both sides of this and so we felt like it was actually really important for the movie to stay objective," McGinn says. No documentary can remain entirely objective, but by presenting the facts as they are — for instance, that independent lab analysis proclaimed that the minuscule amounts of Kercher's DNA on a knife Amanda used almost certainly came from evidence contamination — and allowing key players from both sides of the aisle to speak their part, they come close.
When the case unfolded in real time, the public was left to rely on daily news updates that were sensationalist and often turned out to be entirely false — but sometimes, it was enough to lodge into public perception and shape our judgment. Sadly, a painstaking film like Amanda Knox could not be made until nearly ten years of the case passed by, until Knox and Sollecito had been through an ordeal nobody should ever want to endure, until the justice system failed them and, perhaps the most damning of all, until many of those originally entrusted with telling the story screwed it up.