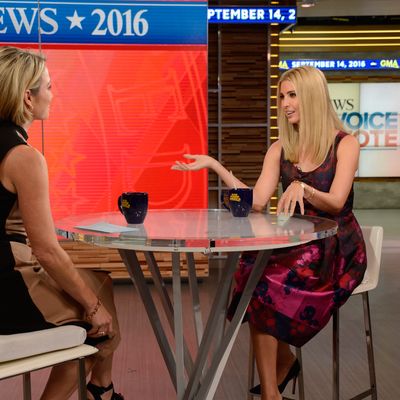 Ivanka Trump on Good Morning America on Wednesday.
Photo: Ida Mae Astute/ABC
Get The Body Politic delivered straight to your inbox.
The widely held belief that entrepreneur Ivanka Trump is her father's best public spokesperson was tested this week during her tour in support of his new child-care and maternity-leave proposals. In a series of interviews, Ivanka, who's regularly been praised as the smart, poised, appealing Trump, and who certainly gave the glossiest speech of the Republican convention (in which she argued for policy reform supported by Democrats), had trouble under even mild scrutiny of her dad's proposals, and instead revealed herself as just as defensive and dishonest as her father.
On Wednesday, Ivanka spoke with Prachi Gupta of Cosmopolitan. When Gupta asked how Trump's plan, which would federally mandate six weeks of maternity-leave coverage — and only maternity-leave coverage — would benefit same-sex couples, Ivanka could not answer, maintaining only that it is designed "to help mothers in recovery in the immediate aftermath of childbirth." When Gupta followed up by clarifying that in the case of same-sex adoption where both parents are men, they wouldn't receive leave "because they don't need to recover," Ivanka became defensive, noting "those are your words, not mine," even though they had in fact been a version of her words.
When Gupta next asked about comments Donald Trump made in 2004 about pregnancy being an inconvenience for employers, Ivanka became irritated. "I think that you have a lot of negativity in these questions, and I think my father has put forth a very comprehensive and really revolutionary plan." Trump did not seem to notice that Gupta had asked a question about a negative comment her father had made about the very issues they were discussing, nor did she care. Instead she described him as a champion of women and suggested that "to imply otherwise" — by citing his actual words — "is an unfair characterization of his track record." When Gupta pressed her further, Ivanka simply began lying. "On child care specifically, there are no proposals on the table" — Hillary Clinton laid out, four months ago, an ambitious set of proposals on child care that include capping child-care expenses at 10 percent of household income and raising the pay of child-care providers — "He really took ownership of this issue." Ivanka then appeared to cut the interview short.
If only she'd shortened her considerably friendlier Good Morning America interview earlier in the day, before making the odd choice to attack one of Clinton's true sweet spots: economic policies to benefit working women and families.
On GMA, Ivanka was also asked to respond to criticism that the plan her father introduced on Tuesday would only cover new mothers, not fathers. "I think we took a giant leap forward with the plan," said Ivanka. "Respectfully, Hillary Clinton has been around for decades and there's no policy benefiting either mothers or fathers in terms of paid leave." She touted her father's late-in-the-game policy proposal as an example of "taking leadership on this" and argued that "certainly [Clinton] had opportunity to have a concept like that."
When GMA's Amy Robach pointed out that in fact Clinton has developed such "a concept," and that her plan calls for twice Trump's proposed paid time off at a higher pay rate for mothers, fathers, and other family members grappling with child care and illness, Ivanka shrugged off this detail. "We have not been in public office for the last several decades and she has," she said of Clinton. "So she could have instituted some of those policies in that role and has not done so."
Ivanka's approach on GMA was at least more honest than the whopper of a statement she'd delivered the previous evening on Fox News, when she claimed that "There's no policy on Hillary Clinton's website pertaining to any of these issues: child care, elder care, or maternity leave or paternity leave for that matter." But it was still creepy, dishonest, and hypocritical, and invites a brief examination into the history of paid family-leave policies — and Hillary Clinton's and Donald Trump's engagements with them.
In 1976, the Supreme Court ruled in General Electric Co. v. Gilbert that the failure to cover pregnant women was not discriminatory. Two years later, Congress responded by enacting the Pregnancy Discrimination Act and amending Title VII of the Civil Rights Act, which made it illegal to fire or refuse to hire an employee because of pregnancy and childbirth-related conditions.
But while firing someone for pregnancy was unlawful, failing to keep their job open after a maternity leave remained A-okay. Activists began to work toward implementing the Family and Medical Leave Act, which would protect jobs through necessary family leaves. The FMLA was first introduced in Congress in 1985 and was twice passed, only to be vetoed twice by Republican president George H.W. Bush. When Bill Clinton entered the White House in 1993, it was the first piece of legislation that he signed.
"It was a great step forward," said Ellen Bravo, the director of the Family Values @ Work Consortium and a lifelong advocate for economic policies that benefit working women and families. But FMLA had, and still has, grave limitations. First, it does not guarantee one penny to employees who take leave; it simply protects their jobs. And that's only if they're lucky; FMLA covers only those who've been at a company for over a year, and then only if they have worked for more than 1,250 hours at a location that has more than 50 employees within a 75-mile radius. That leaves out 40 percent of the workforce, Bravo said, adding that other shortcomings include its narrow definition of what constitutes family, and its failure to cover time off to care for those with routine illness. And again: It is unpaid, making time off economically impossible for most Americans.
More recently, thanks to activists working on behalf of better family policies, some states have begun to implement their own paid-leave programs to account for pregnancy, newborn, and post-adoption care, the need to care for ailing family members, or for workers to simply care for themselves. California passed its paid-leave bill in 2002; New Jersey followed in 2008, Rhode Island in 2013, and New York passed it just this year. Each state's approach differs slightly, but involves pooling money so that workers can draw a portion of their wage.
In 2013, New York senator Kirsten Gillibrand and Representative Rosa DeLauro of Connecticut partnered to propose a federal program called the Family Act that would mandate 12 weeks of paid leave to workers for the birth or adoption of a child, or the serious illness or injury of an immediate family member. The benefit would equal two-thirds of their usual wages, capped at around $1,000 a week, more than three times the average weekly benefit of $300 that Donald Trump is proposing for maternity-leave pay, according to his website. That bill is still making its way through Congress, with no Republican co-sponsors.
Ivanka's suggestion that through all of this, Hillary Clinton "could have instituted some of those policies … and has not done so" is deeply misleading at best and mendacious at worst.
It is true that while in the Senate from 2001 through 2008, Hillary Clinton did not make paid family leave the law of the land. It is also true that — though Ivanka didn't mention this — one of Hillary's least inspiring moments as a future presidential candidate came in a 2014 interview in which CNN's Christiane Amanpour asked if paid maternity leave should be mandated in the U.S. Clinton replied that "eventually, it should be," but was dubious about it happening on a federal level anytime soon, since, she said, she didn't think, "politically, we could get it now." Clinton's answer was a flub, though a prescient one: Comparing paid-leave mandates to minimum-wage increases, she argued that the state-by-state battles would have to be won before "we try to take it to the national level." That's about as far as Ivanka's claims about Clinton's record on family policies go before they peter out into calculated dishonesty.
In both 2003 and 2005, Clinton co-sponsored a proposed expansion of FMLA to protect workers at companies with over 25 employees; in 2007 to 2008, she and Chris Dodd co-authored a provision that expanded FMLA benefits for families of wounded military personnel, and in 2008 she cosponsored Jim Webb's Federal Employees Paid Parental Leave Act. As a candidate for the Democratic nomination in 2007 and 2008, Clinton called for a program that would provide $1 billion in grants to states to implement paid-leave programs. It was a less robust and less effective plan than the one she's put forth this cycle, but, contra Ivanka, it was certainly "a concept" that had occurred to her. She was also promising, as a candidate in 2008, to make the federal government provide paid family leave to its employees, a move Barack Obama actually made in 2015. During her '08 campaign, Clinton called for an easing of FMLA restrictions, which would cover an additional 13 million workers; she also wanted to guarantee paid sick days on a federal level.
In this year's election cycle, family-leave and early child-care policy proposals have been at the center of Clinton's campaign, and she has signaled that she would make these policies central to her presidency by appointing paid-leave and subsidized child-care experts Ann O'Leary and Heather Boushey as the co-executive director and chief economist on her transition team. "One thing that's really heartening about Hillary's commitment is that she has chosen as top staff two people who have a long history of advocacy around these issues," said Bravo.
Ivanka's father, whose policy ideas she is touting as "leadership," has taken a very different approach to these issues. In 2004, he made the remarks that Gupta cited in her Cosmo interview, claiming that while pregnancy may be "a wonderful thing for the woman … a wonderful thing for the husband, it's certainly an inconvenience for a business. And … an inconvenience for a person that is running a business." In 2011, he reportedly screamed "you're disgusting" at a lawyer who needed to take a break from a deposition to pump breast milk. And in late 2015, while conceding that "certainly there are a lot of people discussing" paid-leave policy, "you have to be careful" about mandating it because it could damage the nation's competitive standing.
Trump has also said that parenting is the purview of women, which could explain why his proposed plan applies only to mothers. "There's a lot of women out there that demand that the husband act like the wife," Trump said in a 2005 interview on the Opie and Anthony Show, but assured the hosts that "no, I don't do that" when asked if he changed diapers. The same year he told Howard Stern, "I won't do anything to take care of [his kids]. I'll supply funds and she'll take care of the kids. It's not like I'm gonna be walking the kids down Central Park."
Even on Tuesday, Trump was clear that his vague interest in paid-maternity-leave and child-care policies did not originate with him. He credited it all to his daughter, describing her as the Veruca Salt of work-life conflict: "Daddy, Daddy, we have to do this!" Trump quoted his 34-year-old daughter as demanding of him.
Bravo criticized Trump's proposals as being "too narrow in scope, too short a time, offering too little money, and taking that money from other people who need it." She noted that "other people besides birth mothers" — including fathers, same-sex couples, non-partnered people — "need time to care for children and family members and themselves." She cited the American Academy of Pediatrics recommendation that 12 weeks was the minimum time that caretakers should be with new children, and added that Trump's benefit plan, modeled on and drawn from unemployment compensation, would be far too little for families to depend on. "Unemployment is already totally inadequate as it is," she said. "It excludes too many people and is insufficient, so pilfering it to claim you're providing paid maternity leave is hardly the solution."
Bravo likes the Clinton campaign's current plan, which promises 12 weeks of family and medical leave to men and women of any family configuration, and aims to replace two-thirds of their regular wages. She said that those who are advocating for more expansive programs in states around the country are hoping to expand the parameters of a federal bill even further.
It's crucial to note, per Ivanka's interest in what each candidate has done about paid leave over the past several decades, that while Donald Trump has not held public office, he has occupied a leadership role in the private sector — precisely the position from which a person could have instituted paid-leave policies. His campaign has, as recently as mid-August, refused to address whether it provided paid leave to its employees. Of nine former Trump employees who were willing to speak to the Daily Beast in August, only one was able to recall any maternity leave offered by Trump, and remembered it as unpaid.
Ivanka has claimed this week that the Trump Organization offers fully paid leave for all of the company's thousands of employees, but a Huffington Post investigation found that workers at Trump's Soho, New York, and Miami hotels had not been offered paid maternity leave but rather unpaid leave in accordance with FMLA.
On Wednesday, the Trump Organization offered New York a statement similar to the one provided to the Huffington Post, claiming that "The Trump Organization is incredibly proud of the family friendly environment it fosters throughout its portfolio. Not only does the Trump Organization have an industry leading 8-week paid parental leave policy, but we also strive to meet the individual needs of parents upon returing [sic] to the work place in order to facilitate a health work-life balance."
The statement was attributed to Deirdre Rosen, senior vice-president of Human Resources at the Trump Organization. When I asked the publicist through whom the statement was sent when the policy had been instituted, and whether it covered all Trump employees, she replied, "It covers all Trump employees and is all inclusive for both men and women. It also covers parents of recently adopted children as well." Again I asked when it had been implemented. "Unfortunately we have no further comment regarding this matter" was the reply.
A failure to confirm when this paid-leave policy was announced means that it could be a long-standing Trump Organization benefit that has gone strangely unreported for the year that he's been in the presidential race and of which many of his employees are unaware, or that it could have been implemented Wednesday morning.
Either way, the policy is significantly less robust than the family-leave policy in place at the Clinton Foundation, which, according to an email from chief communications officer Craig Minassian, provides employees 12 weeks of fully paid leave if they are primary caregivers and six paid weeks if they are secondary caregivers. Men and women choose who is primary and who is secondary, an expansion since 2015, when Chelsea Clinton said in an interview that the foundation offered mothers 12 weeks of paid leave and fathers two weeks. Chelsea, reportedly a close friend of Ivanka's until recently, argued last year that "We have to live up to our own programming and policy agenda by assuring parents are supported."
That's quite a concept. 
Get The Body Politic delivered straight to your inbox.