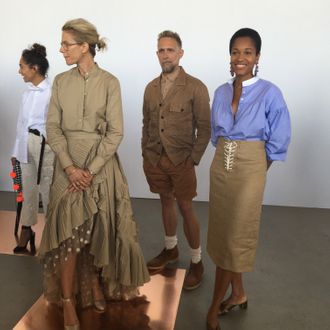 The dress of our dreams.
Photo: Rebecca Ramsey
In a Fashion Week filled with crazy flights of fancy, it's refreshing to see things you would actually have occasion to wear. Fittingly, J.Crew's black-tie look at their presentation today was as friendly and familiar as the models (who were all friends of the brand and non-model humans). This khaki gown, complete with ruffles and netting, was a quintessentially J.Crew take on eveningwear. Womenswear designer Somsack Sikhounmuong walked us through his love of repurposed chinos, classic American sportswear, and the real women who inspired him this season.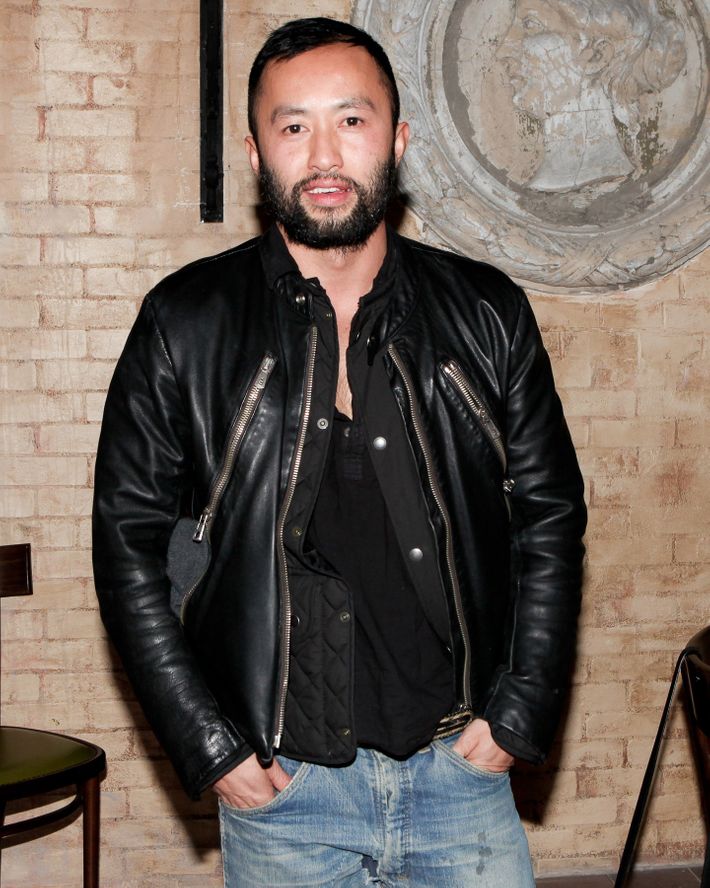 You selected staffers and editors to be your models this season, right?
Everyone here, we have some connection to, whether it be Jenna or me or people we work with or have dinner with or hang out with, people whose style we love, who we have personal relationships with. I was actually thinking this morning when I woke up, I'm not going to be nervous because I'm going to hang out with my friends, who are going to dress up and put on some makeup and just hang out with everyone.
So these people come from all different worlds, you've selected people from politics, writing …
All different worlds, people in different stages of their life. We have [staffer] Jenny Kang, who's pregnant, we have moms, we have dads, we have dads with their daughters, we have brothers and sisters. It's all about very "life" kind of things, you know? As a brand we can kind of do that because we do men's, women's, and kids. I don't know why we haven't done it sooner.
Is it a different process in terms of customizing the clothes to people?
It was a really funny experience because we initially styled a bunch of looks and as each woman was coming in we would pull three looks [per person]. It was really important for us to get their feedback in terms of what they wanted to wear. And it's a huge learning curve, too. Just understanding and finding out that what makes one woman feels beautiful is very different from what makes another woman feel beautiful.

I love the concept of the khaki ball gown.
Yes, that was taking a men's shirt and finding a khaki version of it so it feels light and airy, and cutting it into something that feels a little bit more evening and dramatic, taking it out of its humble connotations and giving it new life.

What are some other pieces that you're excited about?
There's one look that's the sequin striped skirt with a men's shirt that we literally pulled from the men's line, and put it on a girl. We put it with a beautiful flower corsage and sneakers. It's the mix of the high-low, the masculine and feminine thing. If I had to pick an outfit to wear I'd pick that one.
I'm interested in what you think about sportswear in general, because we've seen so much athleisure. This is the reverse of that; you really focused on sportswear.
That's funny because we talked a lot about that this season too, just going back to the very American sportswear details. A lot of wrapping and cinching. There's an apron dress in the back that's a nod to Claire McCardell. And just that kind of ease, the kind of thing you want to wear on vacation, the kind of thing you want to wear on a hot summer day.
Like, this whole sweltering week!
Exactly, exactly. It's a very old-school, that American sportswear sensibility, which I feel is kind of missing right now.