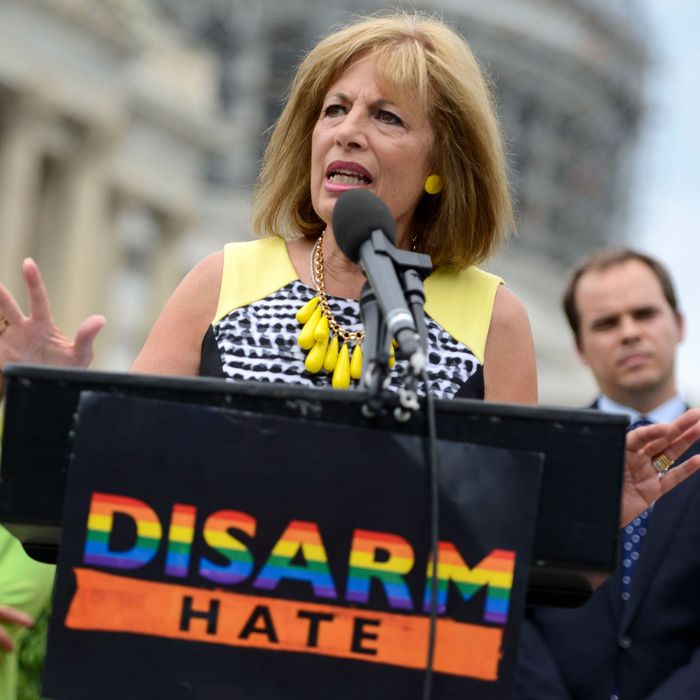 Congresswoman Jackie Speier.
Photo: Leigh Vogel/Getty Images for MoveOn.org
If you ask men, there's no gender bias in STEM (science, technology, engineering, and mathematics) fields. But if you look at the numbers, women hold less than 25 percent of jobs in all STEM fields. Women also hold comparatively fewer STEM degrees, and even those with degrees are less likely to hold a job in their field.
One of the reasons women are so underrepresented in STEM is because studies have shown an inherent gender bias toward men in STEM fields. Another is because STEM fields tend to have less family-friendly flexibility, and child care still falls disproportionately to women. Another is that women in those fields face routine sexual harassment.
On Thursday, California congresswoman Jackie Speier will propose a bill, called the Federal Funding Accountability for Sexual Harassers Act, designed to quash sexual abuse and harassment of women in STEM. According to a press release, the bill will require all colleges and universities to report any "substantiated" findings of sexual abuse by professors to every single federal agency that's awarded the school a grant in the past ten years.
Schools would also have to report any investigations into sexual-harassment claims that have been going on for more than six months. The bill would require federal agencies to take both past reports of sexual harassment and ongoing investigations into account when they're deciding which academic programs to fund.
"There have been far too many cases of professors sexually assaulting or harassing their students and employees, but continuing to receive millions in taxpayer-funded grants," Speier said. "We know that sexual assault and harassment are an enormous factor in driving women out of STEM, and yet universities continue to cover up the appalling actions of some of their faculty. Federal agencies deserve to know if the researchers they are funding are abusing their students."