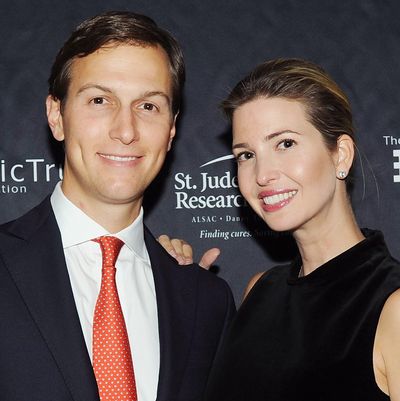 Jared Kushner approves of Ivanka Trump.
Photo: Bobby Bank/WireImage/Getty
Jared Kushner is a big fan of his wife, Ivanka Trump — such a big fan, in fact, that he wrote an op-ed titled "Why Ivanka Trump Is the Perfect Champion for Women's Issues" for Variety's New Power New York list. In it, he attempts to prove — in 328 words — why Ivanka Trump is the perfect champion for women's issues. He does this by describing that one time she signed a woman's shoes:
A few years ago, at a large family function, Ivanka was carrying a plate of snacks in one hand and our daughter, Arabella, with the other, when she was approached by a guest holding a Sharpie. The woman took off her heels, handed Ivanka the marker and asked her to sign them — they were Ivanka Trump shoes. The timing was less than ideal, but Ivanka knows that the women who buy her clothes are often like her, busy moms trying to (sometimes literally) balance their work and family lives. Ivanka signed the shoes with a smile and then resumed being supermom to our very busy toddler.
Not convinced yet? Never fear — there's a long list of Ivanka's accomplishments and business endeavors for you to wade through. "Ivanka is an amazing wife and devoted mother of our three young children," Kushner writes. "She runs her own lifestyle company and IvankaTrump.com, is finishing her second book, and is an executive in her family's real estate business."
He wraps things up by praising his wife for "stand[ing] before 35 million Americans" at the Republican National Convention to talk about paid leave. "Grace under pressure is what she does best and I could not be more proud of her," he says.
In conclusion, Jared Kushner really likes his wife. Is she the perfect person to champion women's issues? That's another question entirely.