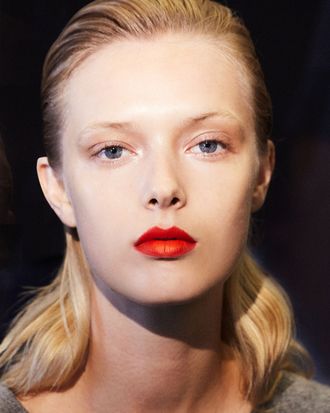 Red glitter lips, meet the orange velvet lip. This morning at Jason Wu, four or five lucky models got what Maybelline global makeup artist Yadim described as an almost "fluoro-orange" red lip.
The secret was a practically clown-orange Kryolan powder pigment which Yadim and his team dabbed onto the center of the lower lip using the fleshy part of their fingers. That, combined with a solid lipstick base of two orange-red lipstick colors (Maybelline Color Sensational Vivid Matte Liquid Lip Color in Orange Shot and Maybelline Color Sensational Creamy Matte Lip Color in Orange Danger) and a red lip pencil, created a look that appeared subtly electric on the runway.
On Instagram, you could describe it as "lit" with four lightbulb emoji and a few lightning-bolt signs. Cut style director Rebecca Ramsey especially loved the color juxtaposition of the orange-red lips with navy looks, like the coat seen below on Lineisy Montero.