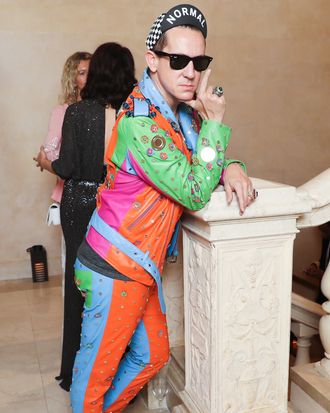 He met his idol through Katy Perry.
Photo: Neil Rasmus/BFA.com/Neil Rasmus/BFA.com
In a new interview with Billboard, Jeremy Scott gushed about meeting his idol, Dolly Parton, when his friend Katy Perry brought him along to the Country Music Awards just for that purpose. And Scott confirmed that he is a Dolly superfan.
"When she sings, I feel like a white light emits from her body, honestly," he said at the Bazaar Icons gala on Friday. "It's the closest thing to a spiritual thing I've ever experienced, doing the Country Music Awards with Katy, and coming for the rehearsal, where it was literally me and cameramen. I'm sitting in the front row, watching my best friend and Dolly Parton singing together, and then Katy introducing me to her from the stage, and Dolly being like, 'Thank you for loving me so much, Jeremy! I love you, too!' It was surreal. She's so nice. She really is so kind, and she's all that's good in this world. She really is."
The designer revealed that Perry had even tricked him once when she threw a Western-themed birthday party and invited a Dolly Parton impersonator whom he thought was the real thing. "She didn't tell me it was an impersonator, and the woman had gotten all the surgery, so, you know, here it is Katy's birthday, I mean, it's not impossible to imagine Dolly," Scott said. He was screaming and shaking, and Perry kept egging it on until Scott overheard her sister, Angela, tell her to stop leading him on.
"I had to pin Angela in a corner and go, What is really happening? And then she was, like, 'That's not really Dolly.' And I already did pictures with her, freaked out, I was, like, 'I saw you at the Hollywood Bowl!,' and it felt so real," he laughed. "So I have these photos, I even posted them on Instagram a while back as a throwback of me and 'Dolly.' But the sentiment was real."
By bringing him along to meet the real Dolly Parton, he says, Katy was making up for her naughty joke.