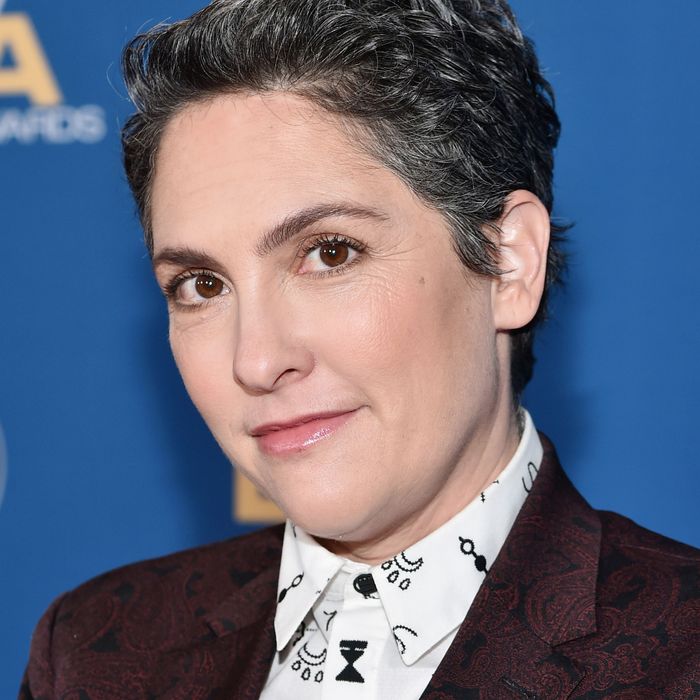 Jill Soloway.
Photo: Alberto E. Rodriguez/Getty Images
Jill Soloway is feeling optimistic.

"I live in a fantasy world where I believe the patriarchy will be toppled any minute now," she said last night, to big laughs, during a wide-ranging Q&A with legendary feminist scholar bell hooks at Manhattan's New School. (bell hooks, for her part, does not share her rosy outlook).
But if anyone has reason to believe in her own transformative power, it's Jill Soloway. The topic for the evening's Q&A was autobiography and the intersection of the personal and political, which is an area Soloway knows all too keenly. In the past few years, her critically lauded Amazon series Transparent, based on Soloway's own experience of having her parent come out as trans late in life, has helped reimagine the stories the culture is telling about what it means to be trans. And, under the banner of her new production company Topple (as in "Topple the patriarchy"), Soloway is at work on more female-centric shows for Amazon, among them her new adaptation of I Love Dick.

"The fact that I myself am political and feminist and trans-positive, that means that the work is," Soloway told me in an interview backstage. "Storytelling has a gigantic capacity to change the world."

Some other highlights from our conversation:

Her complicated feeling about casting Jeffrey Tambor as the lead of Transparent:
I think about that a lot, especially right now, and I've been thinking a lot about how to respond to the current controversy [in which a trans woman activist called out Mark Ruffalo for casting Matt Bomer as a trans woman in the forthcoming film Anything]. I don't think it's as simple as "if I could go back in time I'd cast a trans person."
We've all learned a lot in the past five years. So casting Matt Bomer as a trans person today is very different from casting Jeffrey Tambor as a trans person three years ago. We're exponentially growing as a culture and we're exponentially learning every day. Not only do we get constant information from the internet but we're in constant conversation with one another about what it means to us. And trans people are saying how upsetting it is to see cis men in the role of trans women. But there are so many nuanced versions of this conversation. Maura was in her 70s, and my parent was in their 70s when they came out, and when you're 70 and you've been exposed to a lifetime of testosterone you look a certain way, and you have a very particular experience as someone who doesn't necessarily automatically pass right away.

That doesn't mean we couldn't have found a trans person. I think the challenge for a Mark Ruffalo or for a movie about somebody would not necessarily be to cast a trans person or a cis person but to cast someone who is in a similar place of transitioning as the character.

How she creates a trans-positive environment on set:

Trans people need to be cast in a million more roles, there needs to be trans people behind the camera, there needs to be trans producers, writers, directors, and they need to have a gigantic amount of work out there before cis people take on the telling of trans stories. Cis people telling the stories of trans people gets the stories told, but we've made a gigantic effort to make sure that there are a lot more trans actors in the show, as well as trans characters and trans people behind the scenes and doing an employment program. We have a very trans-central experience. And I think it was an absolutely positively necessary thing to create upon realizing what it meant to have a cis man in this role. I think I absolutely wanted to have a giant onslaught mandate of trans-positivity everywhere and promote trans people to positions of visibility everywhere else. 
I 100 percent understand trans people's criticisms of casting Jeffrey Tambor and I think, considering what we didn't know at the time and the way Jeffrey's persona is similar to my own parent's, I think we were able to pull off something that on balance was worth it.
On who gets to tell the story — and whose stories get told:

Maybe for 15 or 20 years I've been writing pilots that didn't get produced about unlikable Jewish women, and when a cis man played the lead role I had a hit for the first time. And it's an interesting question to ask about the attention that people who are otherized — women, people of color, queer people, trans people: What do we need to do with the patriarchy before we're able to get the attention of the entire world?

This season's Transparent flashbacks:
This season, we have an amazing young [trans] actress playing 12-year-old Maura. We have one flashback episode, which is episode eight, and it's directed by Andrea Arnold. And it goes to when Maura was 12 in Boyle Heights in Los Angeles, and it's a little bit more about Nuclear War and the drills and bomb shelters and the feeling of looming mass disaster and what it did to the American psyche, and how Maura's trans-ness attempted to express itself amidst all that.

Developing the "female gaze" in I Love Dick (which she says Amazon plans to pick up for a series order, though it hasn't been announced yet):
I'm giving a keynote at the Toronto Film Festival next week about the female gaze — a lot of what I'm going to be talking about is my curiosity and my investigation of it. I feel like I'm going on a bit of an archaeological dig to figure out what it is. I think it's a few things. It involves a feeling camera, a camera that feels while it sees. It involves the feeling of being seen, so it's kind of like "the gazed." I think Andrea Arnold does that, with Fish Tank — she kind of puts the camera in the place of the gazed and communicates a feeling of being seen, which I think is really beautiful. And then I think the third aspect is a kind of gazing back. It's gazing at patriarchy, gazing at the gaze.
We're having fun thinking about [how we're going to represent the more abstract parts of the book]. I'm never going to be able to replicate the feeling of being in Chris Kraus's mind. But I watched Lady Dynamite, for example, and I love that. I feel that really gives the feeling of being in Maria Bamford's mind. And it's a new frontier that we're able to do that as women, to go inside the mind of insanity and shoot it and distribute it. Very recently I was told "you can't write crazy people" and "you need a relatable white male protagonist at the center of your work if you're going to have any success." I think that's all changed in the past few years.
Casting Kevin Bacon as the eponymous Dick:
He's so awesome, and so game for being an object for all of our female feminist gazes. And because he's Kevin Bacon, I think he stands in for something for people that nobody quite understands. You say "Kevin Bacon" and it means something. And I think that really relates to Dick as this object that means something. And the names Dick and Bacon are both funny words. Meaty words.