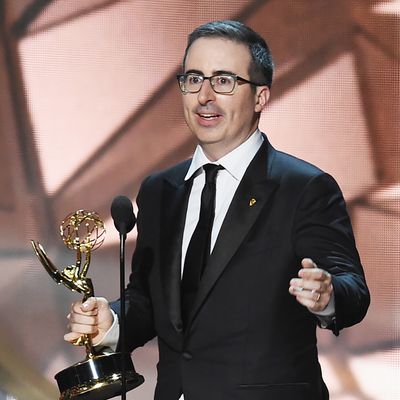 We feel your pain, John Oliver.
Photo: Kevin Winter/Getty Images
Out of all the disappointed members of the Beyhive who watched the Emmys at home in the hopes of catching sight of their beloved Queen Beyoncé, perhaps none is more let down than John Oliver. After the seating arrangements for the 68th annual Emmys were announced, Oliver saw that he would be seated two rows behind the one and only Beyoncé. The thought of this — obviously — filled him with plenty of excitement, he told People.
"All I really was thinking about for the last 48 hours is I'm going to be able to look at Beyoncé's head in 48 hours, and she hasn't turned up, so this is nice but this evening generally has a sense of loss," he told People backstage after winning an Emmy for Last Week Tonight With John Oliver. "I was going to be staring at the back of her head, and experience happiness that I probably hadn't felt before," he added. "But probably wisely she's giving this evening a pass."
Unfortunately for Oliver (and the rest of us), Bey didn't end up showing up at all for the Emmys on Sunday, so Oliver never did get to stare at the back of Bey's head. Perhaps it's all for the best, though. Lemonade lost in the four categories it was nominated in and there were inklings prior to the Emmys that the odds weren't in her favor. They had, after all, dared to assign Beyoncé a seat in the second row. The nerve!