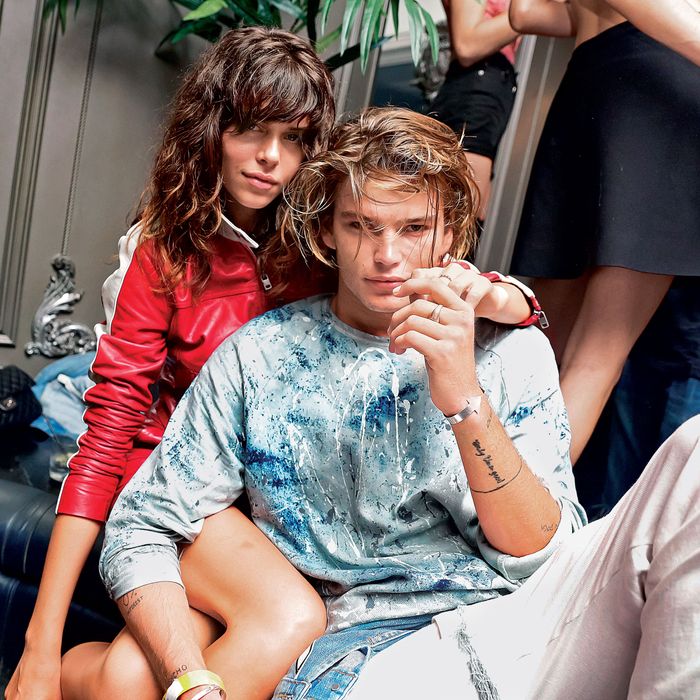 Jordan Barrett.
Photo: Matteo Prandoni/BFA/REX/Shutterstock
"Just think about it: Every­one's done this here for years, why would you be the one that dies?"
I'm being invited into this philosophical consideration by the 19-year-old model Jordan Barrett. We're at Coney Island's Luna Park, and he's attempting to coax me onto the Sling Shot, a ride where we'd launch 150 feet in the air at 90 miles per hour. "It's really fun, I promise," he says. "You're gonna try it, okay? Please? Let's get you in the tank and see if you like it." We came to Coney Island to ride go-karts, but the six-foot-two Australian deemed them "too kiddie," and this ride is closer to the skydiving he had initially suggested we do, anyway.
Barrett's managed to escape to the edge of Brooklyn during the whirlwind of Fashion Week — where he's been bouncing among fittings, shows, and parties — because, well, he's a male model. They're the interchangeable second-class citizens of the fashion world, and at the moment, there are really only two of note. The first is 18-year-old Lucky Blue Smith, the good-boy Mormon who's in a band with his sisters, lives with his parents, covered GQ's "Most Stylish Man Alive" issue, and was named Male Model of the Year at the Elle Style Awards. And then there's Barrett, Smith's more audacious counterpart, whose Instagram is filled with pictures of him kissing models like Barbara Palvin and hoisting cocktail glasses with yet another model, Rianne ten Haken, as well as snaps from Burning Man, and coy captions like "Boring when your [sic] sane."
In his brief career, Barrett's worked with all the right brands: Tom Ford, Versace, Calvin Klein (he has the ideal long, strawlike, dirty-blond, '90s-throwback hair). He's met all the right people: There's photographer Steven Klein, who helped land him in the Balmain campaign–slash–Kanye West music video "Wolves," where Barrett slouches behind West in a bedazzled blazer. And his agent, Jen Ramey, who has worked with Kate Moss for 25 years and recently accepted Jordan as her first male client ("He had that look in his eye, and I'm like, 'You're a star,' " she says). Not to mention the tastemaker fashion editor Carine Roitfeld, who put him on the cover of the third issue of CR Men's Book (Lucky Blue was on the first), and who also pops up a surprising amount on his Instagram.
Barrett is from Byron Bay, a town of 9,000 on the eastern coast of Australia. It's a place "where a lot of people don't wear shoes and they walk about barefoot all day and they play their ukulele with their dreadlocks," Barrett, who has always wanted dreadlocks, explains.
He was spotted when he was 13 and really into surfing. He loves to tell the story: It happened as he was stealing matches from a grocery store. "I wanted to have a cigarette, but I couldn't get a lighter because apparently you have to be over 18, so I decided I was gonna take matches from the counter," Barrett recalls. A modeling scout came over and started asking him questions about how to contact his parents, "I was like, That was weird. I thought he was trying to catch me for shoplifting, and he just gave me his details and left."
IMG, his agency, wouldn't let Barrett move to New York until he turned 18, so he's still kind of new to the whole scene here, where the coverage of him always seems to mention that his father was a convicted drug-cartel boss. His father was caught trafficking something like $9 million in marijuana, but "I just don't like the word cartel," Barrett says. "To me, they're little gentle giants. My dad is hilarious. Then in the media it's like 'drug cartel.' In my head, that's like guns and heavy drugs. In Byron Bay, there's farms and you just grow a load of weed. He just happened to be good at growing lots of plants."
Barrett's also named after one: His middle name is Kale. "When my mom named me it wasn't really a trendy vegetable," he says. "People weren't going around to the kale shop. She just called me Kale." Now it makes him extra-relevant, but "I don't even like kale," he insists, even though he's gluten-intolerant, vegan, and has been sipping an energy supplement, provided by his trainer, all afternoon. "It's too hard to digest. Chewing on kale? No. Not into it."
Since moving here, Barrett has become friendly with "It" girls like Hailey Baldwin and Georgia May Jagger — posting photos of Tommy Hilfiger shoots with Gigi Hadid, appearing in the tabloids for "getting cozy with" everyone from Paris Hilton to Dutch model Lara Stone to Moss. "It works to my benefit with older women; they treat me like their kid," Barrett says. But as for the qualities of the reporting: "Yesterday I read I was dating Barbara Palvin, and then in the same paper I was linked to Kaia Gerber," Cindy Crawford's daughter. "That's what I think about the tabloids."
Barrett's face, Australian tan, glows conspicuously in the bright Brooklyn beach sun; his feline eyes and forehead have more in common with a lounging female leopard than a human. A group of teenage girls all turn to stare at him as we walk by; a park attendant asks him if he's ever been told he looks like a model before. Barrett's wearing a white ripped sweatshirt over a T-shirt printed with a picture of Sinéad O'Connor smoking a cigarette, along with paint-splattered pants, but he doesn't even look weird or sweaty for a hot day by the beach. He looks like fashion.
Today he's driven to Coney straight from Jeremy Scott's womenswear show, where he was one of four men walking in the collection. "The girls run in crews. I don't really have any — " He stops himself before suggesting he might not have guy friends. "I suppose I'm in the same scene as those girls. They have fun nonstop and they kill it." Jordan also likes having fun, which is why he doesn't really hang out with many other male models. "Behind the scenes at guys' shows, everything seems a little forced and tense or competitive," he explains. "It's weird energy. I've seen a lot of Zoolander stuff happen, like comparing bodies with each other and with shirtless selfies." He shakes his head.
It turns out amusement parks are something of a Fashion Week ritual for Barrett. In Paris, he always goes to the Fête des Tuileries after those shows ("Last time, I went twice"), and wherever he is he'll Google the top-ten most adventurous activities and try to do them all. "I have the excitement of a child." He says he doesn't love clubs, but one of his favorite places in L.A. is a disco go-karting track with neon-pink-and-green cars and bright flashing lights.
We buy tickets for the Sling Shot, and I tell Barrett I'm going to yell the whole time. He responds that the first time he went on one of these, the rider right before him had his cage unlocked. "He was okay, but he was, like, twirling around with it open."
We strap in and he flings off his Converse low-tops, requesting that I continue asking him questions on the ride. I mention his tattoos — I can see the words 0% INTEREST and PSYCHO written across his left arm — and he confirms that he has MONICA LEWINSKY scrawled across his pelvis. "If I could, I would vote for her ex-boyfriend's wife." (Barrett was just a 1-year-old when that scandal broke.)
Then we're sling-shotted. After a couple of bounces, he shouts, "Open your eyes!" Turns out they're photographing the ride for those commemorative snapshots you can get at an amusement park, and when we get off, Barrett tells me he was pointing at me the whole time, always ready to take the perfect shot.
*This article appears in the September 19, 2016, issue of New York Magazine.