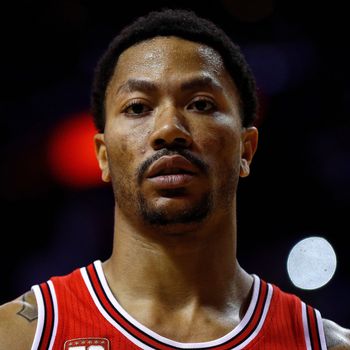 Derrick Rose.
Photo: Mike Ehrmann/Getty Images
The woman accusing NBA star Derrick Rose and two others of gang rape will not be allowed to remain anonymous at an upcoming civil trial, a judge ruled on Tuesday. The woman's lawyers unsuccessfully argued in court that her name should be withheld during trial and that she should be afforded the privacy that is typically granted to victims in sexual-assault cases. U.S. district judge Michael W. Fitzgerald, however, said that the law is clear on such matters and that he would not close his courtroom so as to protect her privacy, according to the Associated Press.
Rose's lawyers previously argued that the woman be named in trial due to her recent interviews where she was "openly pandering to the media on a nationwide blitz tour." The judge's decision, though, was not based on that argument, Waukeen McCoy, a lawyer for the woman, told Deadspin. Instead, McCoy said, the judge ruled in favor of disclosing the woman's name because "he wants everybody to have a fair trial, and he didn't want any inferences drawn [by the jury] from her name not being used." Naming the woman, in essence, would help avoid the impression of bias against Rose, since it could establish the perception that the court believes the woman's accusations are true.
In an anonymous interview with Deadspin last week, the alleged victim said she wished to maintain her privacy throughout the proceedings because she feared how the news could impact her family, particularly her parents. "I come from a big family and although my parents are only Spanish speaking, anything can spark the interest of my nieces and nephews and brothers and sisters," she told Deadspin. "It could come back to my mom, who right now is very ill and dealing with a lot of health issues. I wouldn't want any stress on her, and I wouldn't want anything affecting her or affecting my father."

Rose's team has claimed that the civil suit "is not a rape case." In a memorandum filed last month, Rose's lawyers said: "It's pure and simple extortion by a plaintiff who wants to hide behind the cloak of anonymity while seeking millions in damages from a celebrity with whom she was in a long-term nonexclusive consensual sexual relationship." The case is set to go to trial on October 4.