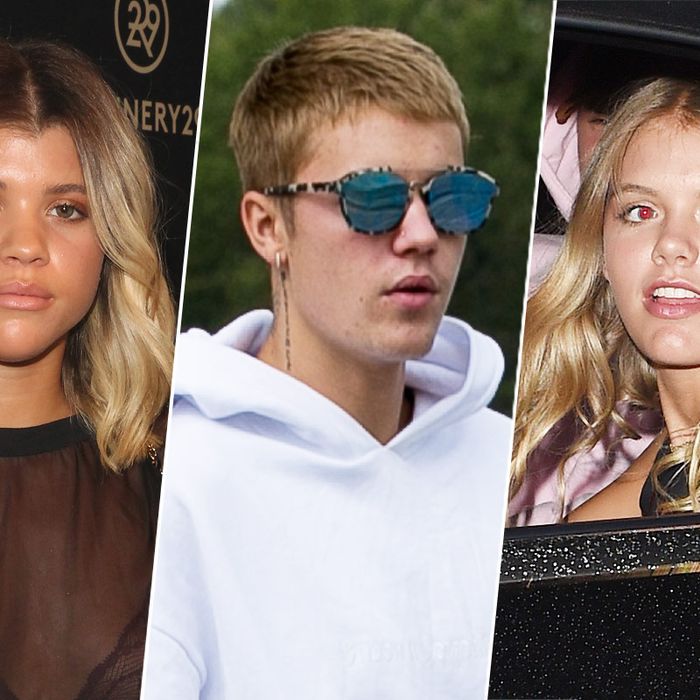 Sofia Richie, Justin Bieber, and Bronte Blampied.
Photo: Getty; Getty; Splash News
August 22, 2016. It is a day that feels so far in the past, but really it was only 27 days ago. We remember it because it was the day that Justin Bieber introduced to the world to his new gal, Bronte Blampied. Bronte Blampied! That was, and is, her name. On August 22, Bieber was photographed with Blampied at a nightclub, while he was supposed to be dating Sofia Richie. Now, he is definitely dating Sofia Richie. So what happened to Blampied?
Oh, boy. She became friends with Sofia Richie!!!!!
Richie posted several Instagrams yesterday featuring the gal you would think she would hate and vice versa: Bronte Blampied. Richie and Blampied went to the pool:
And to The Nice Guy, of course:
And, according to the Daily Mail, the only other outlet that has published anything about this breaking news (weird), Richie and Blampied also attended the opening of the nightclub Catch LA together this weekend. Justin Bieber was not spotted at the event. I don't know what any of these facts mean, but it is important to know them.
Update, 4:20 p.m.: TMZ reports that Justin Bieber and Sofia Richie have broken up. So perhaps that is why Richie and Blampied hung out? This is just one more fact in a list of facts relating to Bronte Blampied that we will make sense of in time.
This has been the Bronte Blampied Brief.