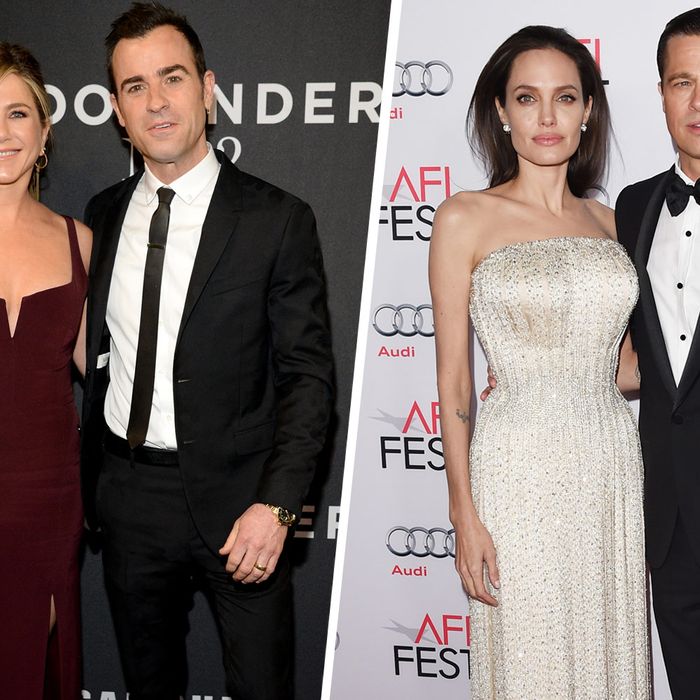 Justin Theroux, Jennifer Aniston, Angelina Jolie, and Brad Pitt.
Photo: Getty Images
Jennifer Aniston's husband, Justin Theroux, just started his press tour for The Girl on the Train, which means he has about three more weeks of answering questions about Brad Pitt, Angelina Jolie, their divorce, and how their divorce affects Jennifer Aniston, specifically, ahead of him. Business Insider got the first opportunity to question Theroux this morning. His response:
"As a child of divorce all I can say is that's terrible news for those children and that's all you can really say. It's boring to sort of comment on anything else. People are having a bad time, that's horrible."
Theroux added that he does not appreciate tabloids referencing Aniston in Brangelina divorce stories. "There's an endless appetite for trash, apparently, though everyone would say that they don't have that appetite," he said. "But I think a lot of people do because people buy it. But there are bigger things to bitch about. It's shocking how much bandwidth things can take up when there are far more important things going on in the world."
His comments mirror Aniston's previous statements about tabloid news. This past summer, in a blog post for the Huffington Post, Aniston said she was "fed up" with all of the gossip about her personal life. Jolie and Pitt are currently battling it out in the tabloids, so it's unlikely that anyone will see peace anytime soon.