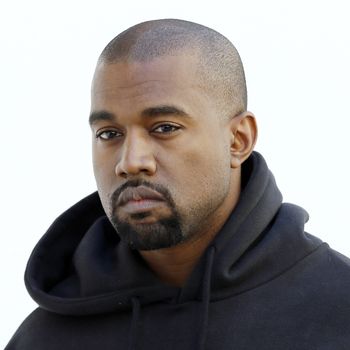 Kanye West.
Photo: Patrick Kovarik/AFP/Getty Images
Kanye West is a man of both highbrow and populist tastes, especially when it comes to movies. In one breath, he might reference Kubrick and Paul Thomas Anderson, in the next, Anchorman and Austin Powers. Continuing in that vein, in a new interview with Lynn Hirschberg for W, Yeezy attempted to describe his position in the fashion world with the help of a few popular kids'-movie plots.

For instance, discussing the lack of support he got from Adidas in developing Yeezy apparel, Kanye asks Hirschberg to conjure up a familiar CGI arcade-game villain (her responses are in bold).

Meaning, I went and did a deal with Adidas and I basically still had to do the apparel in L.A. and build my own atelier and get consultants and build a team and then so … I don't know, have you ever seen, Wreck-It Ralph?"

Yeah, of course.

Okay, so you know when Penelope puts together her car? And she's like, 'Made it myself,' and everybody that has professional cars, they say, 'Look at you with your little car and you're going to do this,' and then they break her car, right? That's basically the fashion world to me.
Throughout the piece, Kanye continues to grill Hirschberg about which kids' movies she has seen.
Have you ever seen The Pursuit of Happyness?

Of course.

Okay, do you know when he was trying to sell the bone density machines? That was like me meeting with the head of [the fashion manufacturing and licensing company] Staff International and I'm like showing him things that I think can, could be considered to be a breakthrough thing, 'Like, look at these, you know?'
Hirschberg understandably seems a little skeptical, but she plays along:
Or also, another thing is, uh, Despicable Me.

Uh huh.

And his relationship with his mom? 'Hey mom, I built this rocket ship.' Whatever. That's how it is.
Of course, no Kanye discussion of film would be complete without a reference to Will Ferrell.
Or, here's another one, another parallel, Elf.

Hmm, you are the elf who wants to find your father?

No, I'm the elf that's Will Ferrell, that's too big for his hands to make the toys.

Let this be a warning to all future Kanye West interviewers: Don't you dare show up without having seen Ratatouille.