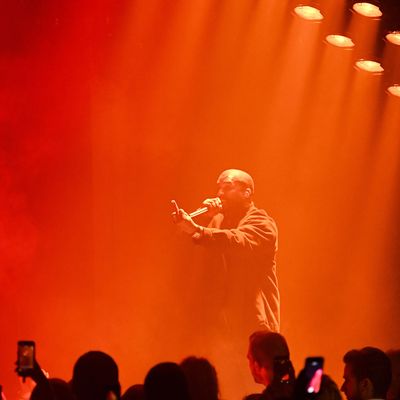 Kanye's message, in a nutshell.
Photo: Billy Farrell/BFA.com
It wouldn't be a Kanye West concert without a fashion-related rant of some sort. After headlining last night's Bazaar Icons party, Yeezus vaguely addressed the critics of his Yeezy Season 4 debacle with an abbreviated version of one of his rants (delivered, appropriately, after he performed "Runaway," with its chorus of "Let's have a toast for the douchebags.")

"At the beginning of this performance, I tried my best not to try. No, I tried to listen to all the reports and shit, and I tried my best to stop trying. But I just couldn't do it! I couldn't stop! No matter what they write, I just couldn't stop. I do thank you all for going on this journey for me. I appreciate all the years y'all put up with me learning in front of you and listening to the music at the same time.
"I appreciate the moment when Carine put her friend on the cover. No, not this woman — I'm talking about when she put Tom Ford on the cover [of French Vogue in 2010]. And all of you motherfuckers were like, Ah, Carine, I don't know about that! But she a motherfuckin' icon now. There's only one Carine."

Not exactly the mea culpa we were looking for, but Kanye always surprises.