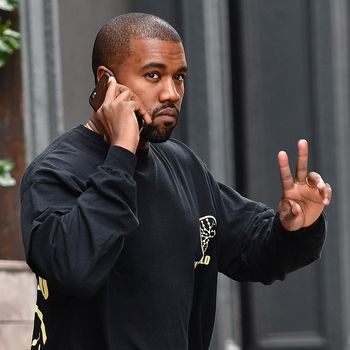 Photo: James Devaney/GC Images
Earlier this week, Kanye West tweeted, "I got rid of my phone so I can have air to create." If so, how is he going to use his sparkly new (and verified) Instagram account? So far Ye hasn't posted anything, but that hasn't stopped more than 125,000 people from following him already — and he launched the darn thing in the middle of a Saturday night. Phone or no, we're sure he will find a way to blow our minds with Instagram, and we're waiting with bated breath to see what he posts first.
Let's take a few guesses.
1. Inspirational quotes from Marianne Williamson.
2. His secret crystal collection, as inspired by Spencer Pratt.
3. Regrams from @fuckjerry and @thefatjewish, until Kim intervenes.
4. Awkward selfies with his Himalayan salt lamp.
5. A Photoshopped picture of himself with laser eyes making haters' heads explode.
6. Pictures of the paparazzi taking his picture for an upcoming MoMA installation tentatively titled "Photographing Me Photographing You."
7. A Boomerang of Kim snoring softly — she hates it, but it's so cute!
8. Literally everything he eats, until Kim intervenes.
10. KITTENS!