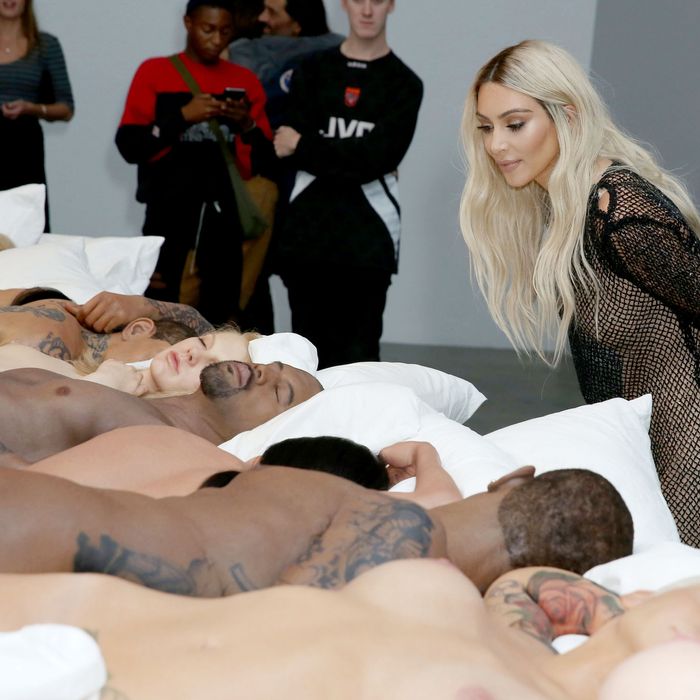 Photo: Rachel Murray/Getty Images for Kanye West
Here's a frightening image: You walk into the home of an extremely wealthy person and in the entrance, they have laid out the silicone naked bodies of 12 icons of pop culture. They appear to be breathing. Their hair is human. They look so real! AHH!
That could become a reality for the lucky buyer of the sculpture made for Kanye West's "Famous" video. That is: if they feel like parting with $4 million. The sculpture, which Kanye West decided to display at Blum & Poe over the weekend on a whim, is reportedly up for grabs for any person with the desire to freak out visitors to their home. At the opening, Tim Blum told the New York Times, "I did the math in my head, and it took $500,000 to a million just to make it," and that the hefty price tag is a "good ballpark" considering what the buyer would be getting.
Contrary to what you may have thought, Kanye West himself did not handcraft the piece — his team of creatives at DONDA did. It reportedly took "four months of animation modeling, 3-D scanning, stylist consulting, Instagram searches," and each of the naked bodies was hand-sculpted and adorned with human hair, "all applied by hand, piece by piece." The silicone models' chests rise and fall as if they are actually breathing. After its short visit to Blum & Poe, the sculpture is set to travel to a new location, yet to be announced.
Anyway, I can think of one person who has $4 million lying around who would probably love to buy this thing just to throw it right into the Cumberland River. Taylor?
A representative for Kanye West's team has reached out with the following statement: "We are incredibly flattered that a number is being reported but at no point have we ever disclosed a sale price for the piece. The writer whose story was published in the NY Times unfortunately based his reporting on hearsay, conjecture, uninvolved third parties and the lack of fact checking. Once again we are flattered by such interest, but as far as Mr. West is concerned - it's all about the art. We are looking forward to announcing when Famous will be available again for viewing."