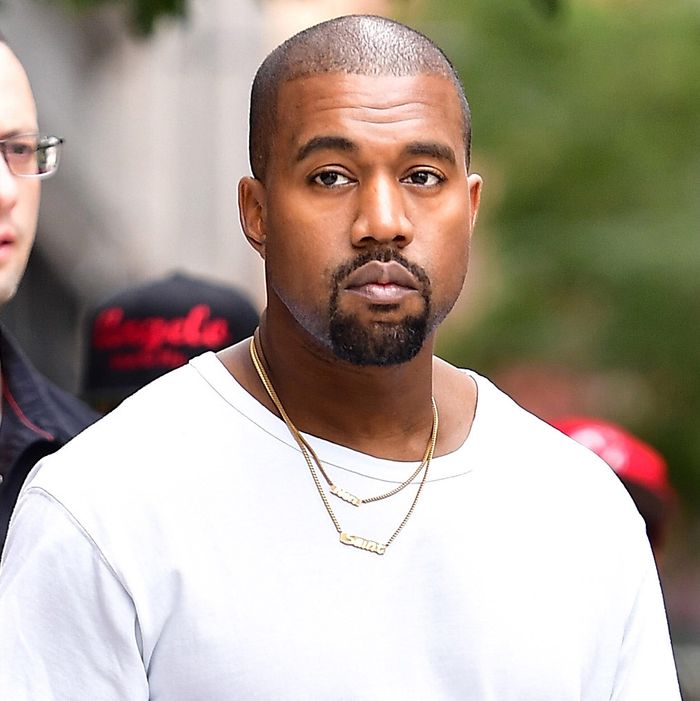 Photo: James Devaney/Getty Images
If you want to do something cool in New York, you're probably going to have to wait in a line — add in Fashion Week and Kanye West, and you can pretty much clear your damn schedule for the day. That was my attitude going into Sunday's open casting call for Yeezy Season 4. In the Twitter announcement he put out just the afternoon before, Kanye had requested "NO MAKEUP" and "MULTIRACIAL WOMEN ONLY" — and that second part earned immediate backlash. I wasn't sure if "two kinds of Asian" counts as "multiracial," but I threw on an oversize gray T-shirt, black waxed-canvas jeans, and white Nike Air Max sneakers — my best approximation of "model off-duty" style — and arrived at Jack Studios at 11 a.m. on the dot.
I had to walk around an entire NYC block before finding the end of the line. Picture approximately 1,200 beautiful "multiracial" girls, 30 percent dressed "model off-duty" style, 30 percent "dancer off-duty" style, and the other 40 percent in street-style bait. I stared in awe at the women in three-inch stiletto heels. The "no makeup" stipulation was loosely interpreted, with several no-makeup-makeup looks to be seen in the line. (Instagram eyebrows are always a dead giveaway.) There were a handful of white girls in line, and I may have been one of maybe 20 Asian girls. As I approached the end of the line, two tall, slender girls hopped out of a cab and scurried to beat me. One of them had a black portfolio in her arms, Wilhelmina embossed on the cover.
By 11:40, a woman was making her way down the line with a warning: "Everyone, please be safe! There are no casting agents or anyone from casting going down the line to collect information. Do not give out your personal information to anyone asking! Thank you." Meanwhile, everyone else was talking about the other girls in the line.
"I feel like I've definitely seen some of these girls on Instagram," one said. "There are some real pretty girls here," she added, almost a bit sadly.
"Whatever, it's just for fun!" her friend replied. "Plus, some of these girls are definitely wearing makeup — I see that highlight, girl. I see that concealer. Just like, go home." Next came a conversation about which races make the most attractive combinations.
"Black and Spanish is a good mix. Or like Native American."
"Nah, Japanese and black — those are always good. Like Kimora Lee Simmons's babies."
"Asian and black in general."
At 1 p.m. we had moved about 50 feet from where I began. A girl I thought I had seen leave the line earlier came running up to a friend about three people in front of me with news: "Guys, I just went up there and cut the line and went straight in. They don't know — there's a lot going on and no one's gonna stop you if you just walk in like you know."
"Is Kanye there?" someone asked.
"Yes, girl! My friend met him. He chose her and like gave her a contract to sign right there. It was crazy!"
And then, the million-dollar question: "What's she look like?"
"Oh, she's real pretty, like light skin and has a blonde pouf with a cool … she's real cool, like a model," she responds. "But like, honestly, it was so quick."
Meanwhile, a note was passed down the line: "You're going to do great," it read. "You're beautiful and you're you!" The Wilhelmina girl and her non-model-but-modelesque friend in front of me peered at it for a moment before passing it back to the girl beside me. She showed it to her friends: One said, "Awww"; the other one scoffed and rolled her eyes.
1:44 p.m.: "I missed church for this?" I heard someone yell.
At 2 p.m., the line made a huge move forward, rounding the corner from 27th Street to 11th Avenue, and the crowd went wild, cheering enthusiastically. I started talking to two of the girls waiting near me. One had a vintage-looking film camera strapped around her neck; the other one had been on her phone having an animated conversation in Creole, and she revealed that it was her daughter's sixth birthday today — she was missing it to be here.
"Oh my god, if I met Kanye in there … I don't know what I'd do — probably just lose it!" said the Creole-speaking girl. She asked about the camera.
"I'm a photographer, that's me," the other girl said. "I don't know. I figure I'll just show up as me because that's what Ye's about, you know? Just being you." She said she had some developed prints in her backpack that she'd brought hoping to show Kanye. She didn't sound all that convinced that she'd even get to meet him. "But just in case," she said sheepishly.
As I finished nibbling the scone I'd brought, a whiff of savory goodness hit my nostrils. Someone's boyfriend had arrived bearing a bucket of Popeye's chicken. The surrounding people eyed it hungrily and the lucky girl in question shared a few fries.
Around 3 p.m., a car pulled over on 11th Avenue and some dude wholesale catcalled the entire line. No one paid him any attention. There were, however, girls trying to get the attention of a few street-style photographers. As my section of the line rounded the corner onto 26th Street, there was more cheering. "Oh my god," said the Creole girl next to me. "When we get up to the door, we gotta turn up!"
I noticed more and more models or girls who looked like runway models strutting down the street to and from the studio entrance. Around four, someone from inside the studio made another announcement, this time about "line skippers." In response, someone had the great idea of huddling closer to prevent people from cutting in; everyone, without questioning this wisdom, followed suit. The line now had the density of a packed rush-hour subway car.
A woman dressed in heels and a full-length spandex bodysuit crossed the street with a suitcase and paused next to the line, creeping forward every few seconds. She had on a full face of obvious "natural looking" makeup.
"Yo, watch out for that one!" shouted a voice behind me. "That suitcase lady trying to get in the line!" Outrage and indignation followed, with loud and fervent shaming for this woman — who may have been trying to cut the line, or may have just been confused.
"You with the suitcase — we see you!"
"Don't let her in!"
The line huddled even closer together in solidarity.
Around 4:30, the line stirred as a protester passed with a large sign that read:
Multiracial = lightskin only.
You ain't slick, Ye.
'We call them mutts.' ~Kanye West
She was topless, wearing an unbuttoned cargo jacket and scarf wrapped around her neck and sunglasses. She was pretty and thin and may very well be a model. On her chest and torso was written in marker: They want black features not black girls.
At 4:40, the faceless announcer-lady, voice noticeably more hoarse, shouted something about agencies. The message traveled telephone-style down the line that anyone with an agency was invited to come forward. The girl with the Wilhelmina portfolio dashed ahead so quickly I felt a gust of wind in her wake. "Text me!" her friend called out. I do not think she was heard.
And then, not five minutes later, the same announcer-lady walked down the line shouting that the casting was closed. At 4:45, 15 minutes before the scheduled end time. "Sorry, we are all done for the day! If you have a comp card we will be taking those!"
Two ladies from casting collected comp cards and headshots from a group of dejected-looking models, and the line burst onto the street, upsetting all the waiting Uber drivers trying to navigate toward their passengers. Traffic was literally stopped. No one would accept that the casting was closed.
"What?? That's not fair! We waited all this time!" A girl tried to start a group chant of "Let! Us! In! Let! Us! In!" It lasted about three rounds before being enveloped by the crowd's angry murmuring. The majority was still in denial, firmly planted in line, believing that if they waited for everyone else to leave they'd somehow sneak inside. But another woman was now barring the door and shouting. "Everyone, the casting is closed! GET BACK STEP BACK!"
After seeing how many girls were waving modeling comp cards at the two casting ladies, whose arms were piled higher and higher with them, it suddenly dawned on everyone around me: This whole thing was rigged in favor of models.
"Why didn't they just say they wanted models in the casting call?" said someone nearby me. "I wouldn't have wasted my time!"
"Damn," said another. "We got played."