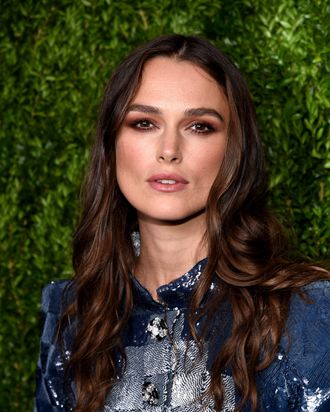 Keira Knightley.
Photo: Dimitrios Kambouris/WireImage/Getty
For the last month, the internet has been scratching its scalp at the news that Keira Knightley has been wearing wigs. She told InStyle UK in August: "I have dyed my hair virtually every colour imaginable for different films. It got so bad that my hair literally began to fall out of my head! So for the past five years I've used wigs, which is the greatest thing that's ever happened to my hair."
"That's right, five years! And we had no idea," wrote Glamour.
"Turns out the actress actually relies on wigs in her everyday life," wrote Celebuzz.
Full disclosure: Here at the Cut we were also a little confused.
What few seemed to understand is that Knightley has been wearing wigs in movies like The Duchess, where her head was transformed into a topiary of locks. She's not wearing wigs popping across the road in London to hit the shops. But news of Knightley's female-patterned baldness spread so far and wide that companies started sending the actress free boxes full of hair-loss treatments.
When we ran into Knightley last night at Chanel's Fine Jewelry Dinner at Bergdorf Goodman, we gingerly asked how she was handling the situation. Apparently, no one had ever mentioned this directly to her before, since she was shocked to hear she was the running to become the next celebrity spokesperson for female hair loss. Laughing, Knightley straightened things out and even offered us the opportunity to pull her hair, which we politely declined. (Although it did look great.) To avoid any further confusion, here's our full interview:
I was interested to hear you talk about wearing wigs and hair loss — it is really scary.
Wait. I have received a big box of things for female baldness, and I had no idea what that was about.
You spoke with InStyle UK about how you wore wigs …
For films. I do wear wigs for films.
I guess people thought that you were experiencing hair loss or wore wigs all the time.
Thank you. You have cleared this up, because I can't tell you how many boxes of hair loss stuff — and there are many on the market — I have at home. And I was like, Wait, does someone know something that I don't? Am I like bald? Thanks for clearing that up. I was so confused! I wear wigs for films. Which is a great thing and has saved my hair, because when you are on a film set and they are doing your hair everyday and dying it a million different colors, it does tend to fall out.
So you're not losing your hair?
No. Do you know what is actually happening? Since being pregnant, I have got ten times more of it. I thought it would fall out, because a lot of women have that and it falls out, and mine still hasn't yet, so I was sort of thinking, Okay, I'll keep it long and when and if it falls out, I'll cut it off and that will be cool because then I could have a bob. I am waiting for that to happen, but fortunately it hasn't yet.
So do you want to clear anything up, for the record, about the state of your hair?
You can give it a tug if you want! It's there, and I'm very happy it is there. And if anyone needs any products if they are losing it, I have a lot at home.
The Chanel Jewel Box is open to the public until September 11 from 11 a.m. to 7 p.m. at Bergdorf Goodman, on the seventh floor.