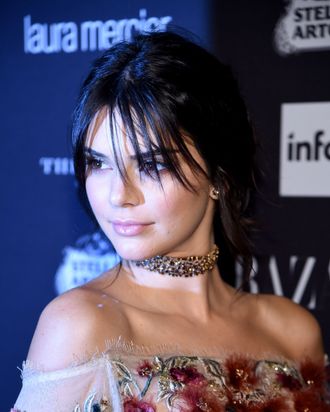 Kendall Jenner.
Photo: Dimitrios Kambouris/Getty Images
Perhaps inspired by the Final Five's prime-time squad-name reveal during the Olympics, Kendall Jenner has let it slip to Allure that her clique also has a self-styled nickname. Speaking of her well-documented friendship with Gigi Hadid, Cara Delevingne, and Hailey Baldwin, Jenner said:
This is going to sound really, really lame, but we all call ourselves the Super Natural Friend Group because we have such cool individual lives and we've been dreaming about them since we were so young.
Later in the interview, she refers to herself as the "most awkward" of the Kardashian sisters — "superawkward," in fact. "I mean, the way I'm sitting right now is pretty awkward," she says. So, seems like she's also a big fan of the word super.