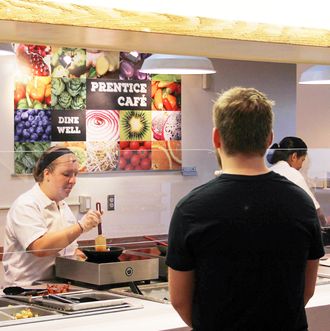 Kent State University's Prentice Café.
Photo: Courtesy of Kent State University
Today in things that strangely didn't happen in California: Kent State University has opened what's believed to be the first entirely gluten-free dining hall in the country.

The school redid its Prentice Café after administrators noticed increasing numbers of students reporting gluten intolerances. A release notes that the certified gluten-free dining option is helpful for people with celiac disease as well as for those who believe gluten is a scourge upon the Earth: "Some individuals who have not been diagnosed with an allergy or sensitivity to gluten also choose to restrict their gluten intake as a personal preference."
The Prentice Café menu also includes "a variety of vegan and vegetarian dishes, as well as foods that support a healthy lifestyle." It was not immediately clear whether the standard soda fountains would be replaced with pitchers of alkaline water and bottles of cold-pressed juice.