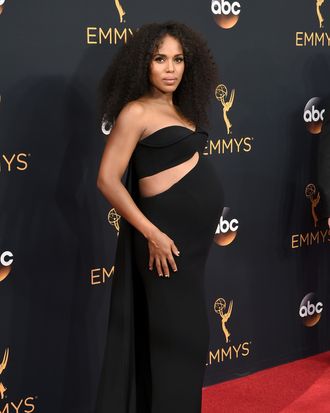 Goddess.
Photo: David Crotty/Patrick McMullan/Getty Images
Kerry Washington regularly makes it on to the "Best Dressed" lists for a reason: The woman knows how to slay on the red carpet. Her outfit at the 2016 Emmys ranks among her very best looks to date, not just because every aspect — her hair, makeup, and nails — was styled to perfection.
No, it was because Washington, who is well into her second pregnancy, strolled on to the red carpet wearing an unexpected and fabulous black gown with a cutout that highlighted her baby bump for all to admire. She's proven time and again she doesn't shy away from wearing daring outfits like a crop top while pregnant. At the 2016 Emmys, though, Kerry Washington dominated the red carpet so hard, she looked like a pregnant goddess walking among mere mortals. We are not worthy.