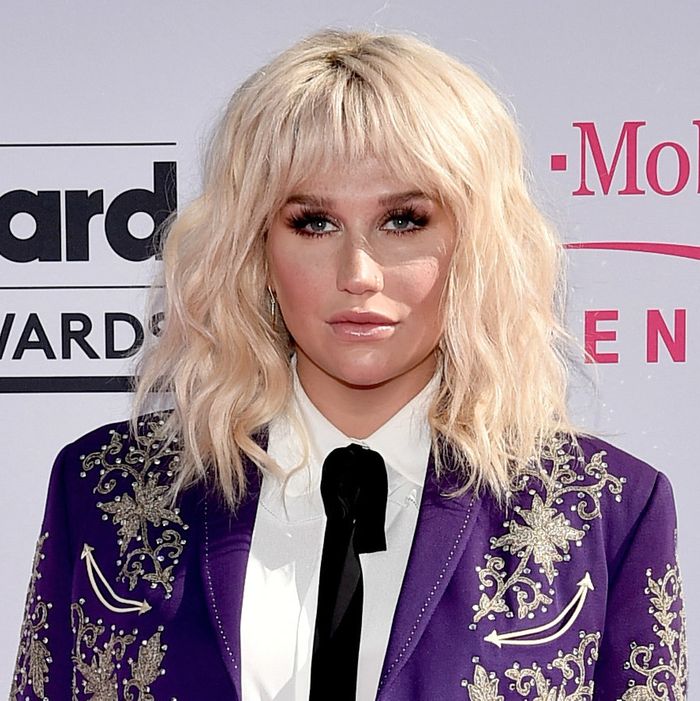 Kesha.
Photo: David Becker/Getty Images
By now, the news of Alicia Machado has made its way around the media circuit. Not just that, but Machado's story appears to have struck a particular nerve with women who take issue with Donald Trump publicly body-shaming the one-time Miss Universe. And now, you can count Kesha among the many women who've thrown their support behind Machado.
In a lengthy caption on Instagram, Kesha expressed her solidarity with Machado, writing that she "did not deserve to be shamed by this monster" (a.k.a. Trump). She added that Trump may have tried making Machado's weight/body size an issue, but that she "find[s] the real problem here being his bloated, arrogant ego and offensive, racist, misogynist verbal diarrhea. he is a bully." She continued:
WORDS mean something, and can be extremely hurtful and dangerous. They stay deep inside you and can affect your emotional and mental health. I know this from personal experience. They are hard, and sometimes impossible, to ever forget. please don't let him get to you any longer, instead realize that you are a strong woman and a beautiful role model for standing up and telling the truth, even if it hurts to remember it. much love, and mad respect ❤️🙏🏻❤️
This isn't the first time that Kesha has stood up against body-shaming, particularly since it's a deeply personal issue for her. In her 2014 suit against Dr. Luke, she claimed the producer emotionally abused her about her weight, according to the Huffington Post. Since then, Kesha's also taken time to shut down some internet trolls who took issue with her selfies. And in June, she again reminded folks how she's not afraid to take on the hate people try to send her way. It's safe to say you can count on Kesha standing by Machado — or any other woman — who's targeted about her weight and body. So don't try her.